Good Grades
By July, the City's restaurants will be legally required to post health inspection grades, but what does this mean?
0
New Yorker's know the wave of relief they feel when they see their favorite bodega scored a B+ in Sanitary Inspection. Most of the time we don't consider the letters as most nice restaurants and over 30% of all city restaurants score "A" averages. But what about that little sushi place you order from on Wednesday nights or the quesedilla you rely on to cure your hangover. What does that B+ mean?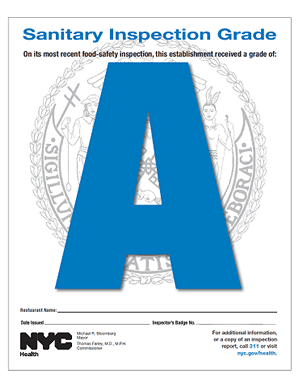 The inspection procedure, according to nyc.gov is an unannounced visit to restaurants, retail bakeries and "take outs" conducted by Public Health Sanitarians who have college degrees in health sciences. Sanitarians spend most of their time observing the food workers practices including (via their website) "the manner in which they receive and store foods, how they process foods, and the temperatures at which they cook, hold, and reheat foods." Then they get out their red pens and grade – A,B,C. Inspection frequency increases depending on grade, and establishments receiving a B or C have one chance to improve food safety procedures before they are required to post their grade. (Some violations are as small as dented cans or leaking faucet.) B and C restaurants do not pose health threats to their patrons. Those restaurants are shut down. "A" students receive their letters to post on the spot. 
By July, all restaurants – yes, even Per Se – will be required to display cards upon entrance. By requiring the grades to be posted, New York anticipates a marked increase in restaurants following near-impeccable food safety and sanitation rules. When L.A. implemented grade posting, the number of restaurants meeting the highest food safety standards rose from 40% to 80%. So it's only slightly gross to eat at 20% of L.A. restaurants. From one New Yorker to another, we aren't there yet, but we are on our way.
Emma Dinzebach
Daily Sales Email, or Subscribed to our RSS Feed? Don't miss a Sale!
Posted by Emma Dinzebach at 12:00 AM
bargain news , Body , BODY/MIND , Restaurants |