0
Bleecker Street is perhaps one of the few areas of New York City where the restaurant genre is limited to one specific style of cuisine. Renowned primarily for its Italian eateries and pizza joints, Bleecker makes no apologies for what some passersby might call a "limited" selection. Narrowing it down to the three best pizzerias is much like Sophie's Choice for any pizza enthusiast, but if you want to sift through the sea of infinite dough, the following establishments are the unequivocal pizza powerhouses.
The obvious choice for any first-timer on Bleecker is John's Pizzeria (located at 278 Bleecker Street). The no frills appearance of the restaurant could have something to do with the fact that the pizza speaks for itself, or maybe the fact that its walls have been standing since 1929. Either way, this pizza is sure to delight without breaking the bank. The most delectable pie combination comes in the form of pepperoni with sausage, tomatoes, and extra cheese (your pulmonary muscles may not thank you, but your taste buds will).
Roma Pizza (located at 259 Bleecker Street) is yet another one of many charming pizzerias with ambrosial toppings and combinations in the West Village area of Bleecker. What makes Roma Pizza stand apart from other competitors on this street is its "96 hours" philosophy, meaning the pizza makers let the dough rise for ninety-six hours before baking it in the oven. This gives the pizza a lighter air and is actually healthier because of how much easier it is to digest. Another notable fact about Roma Pizza is its location in what was formerly the legendary New York institution, Zito's Bakery. Preserving the neighborhood feel that shopowner Anthony Zito perfected, Roma Pizza is a welcome addition to the increasingly corporate look of Bleecker Street.
The final contender in this trifecta of perfect pizza is Keste Pizza and Vino (located at 271 Bleecker Street). More upscale and expensive than Roma Pizza and John's Pizzeria, Keste is consistently ranked as one of the best pizzas in New York, and has several gluten-free options, like the margherita, in addition to the customary flour-laden dough. One of the more expensive pizza restaurants on Bleecker, Keste's menu features mouthwatering prospects that include the Pizza del Papa (butternut squash cream, smoked mozzarella, yellow peppers, and tomatoes), the Keste (bufala mozzarella, prosciutto di parma, tomatoes, gran cru, arugula, and olive oil), and the Salsiccia e Friarielli (Italian sausage, smoked mozzarella, and olive oil). For anyone crazy enough to pass up this pizza paradise, Keste also has an assortment of salad selections.
And so, to use a pizza metaphor, you can cut straight through the dough by attending one of the abovementioned pizzerias, as they are the most effective dining experiences for guaranteeing you're getting one of the best slices on the Bleecker block—and in New York.
by Genna Rivieccio
Posted by Staff Writer at 12:00 AM
bargain news , Money/Save money tips
|
The city's various Earth Day events that help you get your greens.
0
This week, in honor of Earth Day, we get to expand our eco-friendly palate with some other city favorites. We're huge fans of Quantum Leap and the East Village's Organic Grill. We love the sustainability idea behind Rogue Tomate and the local flavors at Cookshop. For time-tested and tasted healthiness, we rely on veteran Souen in Union Square and Soho. And for Earth week, we eat Italian.
Il Buco, the old world Italian restaurant on Bond Street, is honoring Earth Day with their 3rd annual rainforrest fundraiser. Il Buco offers 15% off lunch tabs from noon to 4 p.m. through Saturday, and donates the savings to save the rain forest. (If you haven't eaten at Il Buco, take advantage of this offer and get the bruschetta with mussels, gambas, pollo and pasta special of the day or risotto.)
Jonesing for a more crowded Earth Day celebration? Join everyone and their mother at Grand Central, the annual Earth Fair highlights organic food, preparation and nearby restaurants.
Emma Dinzebach
Posted by Emma Dinzebach at 12:00 AM
bargain news , BODY/MIND , CITY LIFESTYLE , Mind , NY Life , Restaurants , Shopping Trends , Tips Guides
|
By July, the City's restaurants will be legally required to post health inspection grades, but what does this mean?
0
New Yorker's know the wave of relief they feel when they see their favorite bodega scored a B+ in Sanitary Inspection. Most of the time we don't consider the letters as most nice restaurants and over 30% of all city restaurants score "A" averages. But what about that little sushi place you order from on Wednesday nights or the quesedilla you rely on to cure your hangover. What does that B+ mean?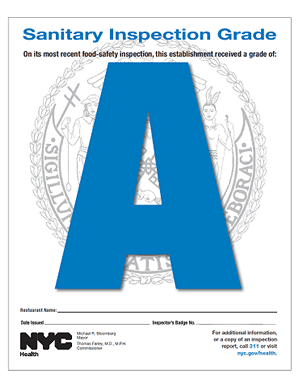 The inspection procedure, according to nyc.gov is an unannounced visit to restaurants, retail bakeries and "take outs" conducted by Public Health Sanitarians who have college degrees in health sciences. Sanitarians spend most of their time observing the food workers practices including (via their website) "the manner in which they receive and store foods, how they process foods, and the temperatures at which they cook, hold, and reheat foods." Then they get out their red pens and grade – A,B,C. Inspection frequency increases depending on grade, and establishments receiving a B or C have one chance to improve food safety procedures before they are required to post their grade. (Some violations are as small as dented cans or leaking faucet.) B and C restaurants do not pose health threats to their patrons. Those restaurants are shut down. "A" students receive their letters to post on the spot. 
By July, all restaurants – yes, even Per Se – will be required to display cards upon entrance. By requiring the grades to be posted, New York anticipates a marked increase in restaurants following near-impeccable food safety and sanitation rules. When L.A. implemented grade posting, the number of restaurants meeting the highest food safety standards rose from 40% to 80%. So it's only slightly gross to eat at 20% of L.A. restaurants. From one New Yorker to another, we aren't there yet, but we are on our way.
Emma Dinzebach
Posted by Emma Dinzebach at 12:00 AM
bargain news , Body , BODY/MIND , Restaurants
|
Random art meets a heart attack in the Meatpacking.
0
Graci to Urban Daddy for rightfully comparing the new spot at One Little West 12th, oddly called The Collective, to something the Mad Hatter might muster up. The giant warehouse space looks like someone stuck a bar at one end then sneezed out a hodgepodge of tables throughout. The Collective might have thought to call themselves "The Collection" as they appear to have "collected" random items from other city destinations like LES' graffiti, and Urban Outfitter's pendant lights and from Chelsea, some faux Eames chairs. (Or maybe they are real. How would I know?) But the windows are wonderful and the randomness somewhat endearing. It might be the perfect place for the city variety to gather, er…collect, for post-workday wine or a cocktail before a night on the town.
From the masterminds who brought you STK and Bagatelle (The ONE Group), The Collective is bottle-service free and serves cholesterol heavy American fare (see also: drunk food) that just might give you a heart attack. I still cannot figure out why they added soy kettle chips to a menu that has blue cheese tater tots and short rib sliders, and I gave up chips for lent, but apparently, they are amazing. The menu offers a "Taste of The Hoods" with different entrees from each city neighborhood. (The Harlem is chicken and waffles with gravy. The Upper West side is lamb shank with fruity couscous. And so on…) So you won't emerge skinny or ready to mix with B&Ters at Meatpacking clubs; but you'll emerge happy. And that's all that really matters anyway.
The Collective 1 Little West 12th Street  212.255.9717
Emma Dinzebach
Posted by Emma Dinzebach at 12:06 AM
bargain news , People , Restaurants
|