0
Internationally acclaimed fashion designer Vivienne Tam presented her first-ever Fashion Yoga collection in the form of a "Live Sculpture Garden," during Mercedes – Benz New York Fashion Week on September 13th at the Barclay's Capital Grove in Lincoln Center.
During the presentation, 20 leading female yogis, dressed head-to-toe in Tam's new line, performed choreographed yoga led by International Yoga experts Rodney Yee and Colleen Yee, creating a living and breathing fashion yoga installation.
What makes your yoga wear stylish yet functional? Yoga is more than a workout  – it is a lifestyle – does your yoga collection appeal to both yoga in the studio and out? If yes, how so?
An avid Yogi herself, Tam's mission was to create the modern woman's Fashion Yoga Collection, a lifestyle line that takes women from Yoga to everyday living. A line that can go from the studio to lunch or shopping. Vivienne partnered with Rodney Yee a top "yogi" with a new DVD from www.Gaiam.com called: Daily Yoga, URL to help her create the best line possible.
What sort of pieces work best for yoga practitioner? What type of pieces should yogis wear to class to be able to move best and flow from pose to pose?
Clothing that becomes one with your body. Seamless and lightweight with built-in support and breathability.
As a longtime yoga practitioner, what did you find what missing in yoga wear? How did this influence your collection?

Bright colors, pattern and inspiring images are what I look for. The "OM" is printed on all of the pieces of the line . The colors: purples, blues, and greens are from nature and translate well into the collection. The line is made to feel like a second skin, which I feel allows you to become more at one with your-self and, in turn, experience the yoga more fully.
What are some must-haves pieces yogis should own?
A mat, a great pair of leggings, a supportive top whether it be with or with-out sleeves, and some sort of cover-up for after practicing. The body's temperature goes up during a class and you want to cover your body after so not to get chilled. The line will be available online spring 2012, and the prices will range from $65 to $210, www.viviennetam.com
Posted by Staff Writer at 10:24 AM
bargain news , Body , BODY/MIND , Designers , Shopping News |
Everyone knows that if you are seriously trying to lose weight, it's about lifestyle change. But if you need a kickstart to bikini season, try a fast fast.
1
Everyone knows that if you are seriously trying to lose weight, it's about lifestyle changes not restricting certain foods for a small period of time. Choosing healthy snacks all the time, getting to the gym, giving up your Wednesday night show in lieu of yoga class and walking to a different neighborhood when you go to dinner. But if you need a kick start, here are the fasts that I think most people can actually do.
My nutritionist recently suggested the best way to kick off my weight loss goal for Hamptons' season is with a fast. For me to survive a fast, it better be a fast fast. Three days max! Then I'll move into my lifestyle changes. Here are her suggestions:
Blueprint Cleanse. The BluePrint Cleanse Renovation is the beginner cleanse and great for someone who needs a mini cleanse or needs a push to kick off their spring healthy eating. The 3 day cleanse comes complete with six juices – a mixture of fruits and veggies with emphasis on the fruits. To safely go on and off eat just fruits and vegetables a day before and a day after. (Note: BluePrint also has a cleanse with food option, for those less inclined.)
Three Day Juice Cleanse. This is less regimented than the BluePrint Cleanse as you get to choose your own juices. Juices that are acidic, like tomato and orange, are banned from the list. Veggie juices shouldn't be often combined with fruit juices. Only apples can be added to fruit juices. Juices should be homemade or FDA approved organic.
Fruits and Veggies. If you hate veggies, get over it. Eating just fruits and veggies for a few days is great for you and will shrink your stomach enough to get you off to a good start with your weight loss. Choose seasonal veggies and veggies you don't normally eat, etc. It is a great way to kick off your food lifestyle makeover.
And finally, use the quiet time during your cleanse to examine what keeps you from changing your habits. Does your social life revolve around going out to eat? If so, choose a yoga class, a concert, an art exhibit or something else to go and do. This is New York after all. For more info on changing your food lifestyle visit livstrong.com.
Emma Dinzebach
Posted by Emma Dinzebach at 12:00 PM
bargain news , Body , BODY/MIND , Points of View |
By July, the City's restaurants will be legally required to post health inspection grades, but what does this mean?
0
New Yorker's know the wave of relief they feel when they see their favorite bodega scored a B+ in Sanitary Inspection. Most of the time we don't consider the letters as most nice restaurants and over 30% of all city restaurants score "A" averages. But what about that little sushi place you order from on Wednesday nights or the quesedilla you rely on to cure your hangover. What does that B+ mean?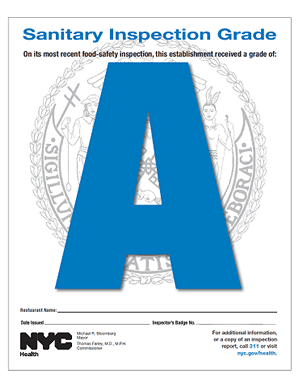 The inspection procedure, according to nyc.gov is an unannounced visit to restaurants, retail bakeries and "take outs" conducted by Public Health Sanitarians who have college degrees in health sciences. Sanitarians spend most of their time observing the food workers practices including (via their website) "the manner in which they receive and store foods, how they process foods, and the temperatures at which they cook, hold, and reheat foods." Then they get out their red pens and grade – A,B,C. Inspection frequency increases depending on grade, and establishments receiving a B or C have one chance to improve food safety procedures before they are required to post their grade. (Some violations are as small as dented cans or leaking faucet.) B and C restaurants do not pose health threats to their patrons. Those restaurants are shut down. "A" students receive their letters to post on the spot. 
By July, all restaurants – yes, even Per Se – will be required to display cards upon entrance. By requiring the grades to be posted, New York anticipates a marked increase in restaurants following near-impeccable food safety and sanitation rules. When L.A. implemented grade posting, the number of restaurants meeting the highest food safety standards rose from 40% to 80%. So it's only slightly gross to eat at 20% of L.A. restaurants. From one New Yorker to another, we aren't there yet, but we are on our way.
Emma Dinzebach
Posted by Emma Dinzebach at 12:00 AM
bargain news , Body , BODY/MIND , Restaurants |
Because honestly, Thanksgiving is a bit gross, and come tomorrow, you'll be in need of something lighter.
0
Today you sit around stuffing your face with more than you normally eat in a week, lie down and complain that your stomach hurts, then eat pie, pie and more pie. And tomorrow you'll feel like shit. What to do?
Here are our two recommendations for a post Turkey Day Detox. Because honestly, Thanksgiving is a bit a gross, and come tomorrow, you'll be in desperate need for something a bit lighter.
In BK: Urban Rustic strives to bring Brooklynites grocery items grown locally. They know where their food comes from. Fruits and veggies are never frozen, pesticide free and make your insides say "gracias." Don't be tempted by the burritos, although they are delicious. This weekend go for the smoothie and juice bar. Breakfast with a paradox smoothie (banana, vanilla, wheat germ and honey) and lunch with a protein-based sandie on multi-grain or vegan friendly spelt. Don't be scared of the veggie juices. The Urban Rustic V-8 uses seasonal veggies and can be customized to your liking.
If you are one of the lucky who didn't cook on Thanksgiving, then Urban Rustic's grocery store offers deliciouso options to prepare your own healthy dinner and detox through the weekend. Feeling lazy? For the health-conscious couch potato, they deliver!
Urban Rustic 236 N. 12th Street, Brooklyn, 718.
In Manhattan: Liquiteria is a bit more commercial than the cozy BK grocer, but you will learn to love the efficiency. And so will your body. The pressed juices come complete with immunity defenses and kidney and liver detox. The Mr. Green is outta this world; and it might be your answer to post-Turkey sludgery. Think shopping fuel. Smoothies and fresh squeezed juices are made to order, but if stuffing has rendered you indecisive, go for the Power Pina Colada or Berry Powerful. Liquiteria is better for, er, liquids, so skip the sandie. If you aim to try on clothes, you don't need it anyway.
Liquiteria 170 2nd Ave @ 11th Street  212.358.0300
Emma Dinzebach
Posted by Emma Dinzebach at 12:00 AM
bargain news , Body , BODY/MIND , Restaurants |