0
Aside from some intermittent sunny weather and some great finds at sample sales, New York seems to be full of doom and gloom these days. Stores are closing, restaurants are empty and friends are losing their jobs.
Being jobless in New York is challenging no matter how great your severance package is. Trimming your budget and job hunting is tough enough, but using your time well can be the hardest part of all. Ask any unemployed gal what she did with her first week of freedom and she'll probably answer "not much". Somehow a trip to the gym, deli and dry cleaner can suddenly consume the whole day, leaving a girl wondering how she ever had time for a job.
Here are some tips for being Unemployed and Fabulous in New York, from how to keep the days from disappearing to budget alternatives to the necessities to fun stuff you never have time for.
Using your time
Get up at the same time everyday – and make it early. The easiest way to lose a day is sleeping it away. And getting off to a late start will put you in the slacker mindset. Life is your full-time job now so get up for it.
Set a schedule for yourself each morning and stick to it. This is the best way to ensure your free day doesn't go to waste. If you have to do some job searching online, list the sites you need to visit and allot a certain amount of time to do it. The hours disappear way too easily when you're online.
Plan your days around interviews and appointments. If you have an interview in midtown on Tuesday, make that your day to have lunch with a friend that works in the area. If you are have a hair appointment in SoHo on Friday, make that your downtown day. A lot of time can be wasted getting around the city.
Fun stuff to do
Obviously this town is full of great museums and galleries so you don't need another list of those, but here are some fun activities you may not have thought of.
Make an appointment at Amsale or Kleinfeld's and try on wedding gowns – no one has to know you're not engaged. How often can you do that?
Clean out your closet and list the good stuff on Ebay. It takes a bit of time, but you're unemployed. And you might as well get a few dollars for it!
Hit the Union Square Farmer's Market. Anyone who has read French Women Don't Get Fat knows that really fresh local fruits and veggies are one of the secrets. And they really are much tastier It's open Monday, Wednesday, Friday and Saturday.
Make Jewelry – there are a bunch of great bead shops in the garment center on 6th Ave between 38th and 40th Streets. The prices are wholesale so they are very reasonable and they have all off the tools you need. If you are unemployed, you might as well have some new accessories.
Keep in Shape
For the generous severance package – Physique 57 The classes aren't cheap at $33 a pop. But this hour-long torture session is a favourite of Kelly Ripa and Karolina Kurkova among other ridiculously slim celebrities. Expect to feel pain in every muscle in your body (including ones you didn't know you had) for 2-3 days after. But stick with it – just looking at the instructors should be enough to inspire you. www.physique57.com.
For the not-so-generous severance package – Dance class. It's a fun and suprisingly affordable way to keep in shape. There are studios throughout the city offering ballet, jazz, modern and theatre dance classes. And the most expensive is $18. These studios often offer yoga, pilates and stretch classes at the same price. And they're great for celeb sightings – those performing on Broadway need to hone their dance skills.
Upper West Side – www.stepsnyc.com
Upper East Side – www.baenyc.com
Midtown West – www.broadwaydancecenter.com
Midtown Central – www.balart.com
Union Square – www.peridance.com
Downtown/Tribeca – www.dnadance.org
For the former employee of a company that has declared Chapter 11 – ride your bike or walk along the west side down to Battery Park. I did this recently and was amazed at the beautiful landscaping and how extensive the trail is.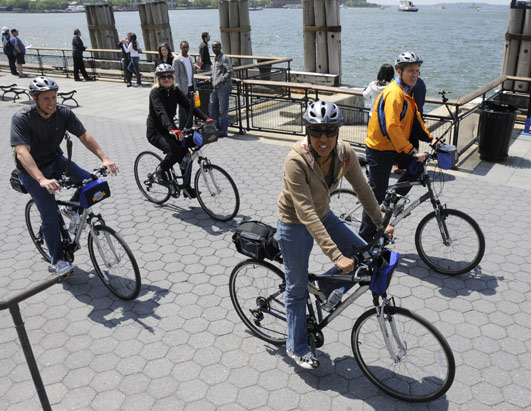 Personal maintenance
Ok, you may have to cutback on the trips to Sally Hershberger and the Red Door Spa, but you still need to be groomed for your interviews. Solution: Chinatown
Go for a blowout for $12-15 at the dozens of salons there. Try Tops Cut Salon – 76 Elizabeth Street (at Grand) 212.219.0728
Lose the blackheads and clean up the eyebrows at one of the skin care centers. They aren't fancy but most of them use great products, are very clean and affordable. Facials are as low as $45 at Katy's face on Mott Street. And they do a great job on eyebrows for $15.  Katy's Face 184 Mott St  (212) 226-3278, Face to Face Skincare 166 Mott St (212) 226-3312
–Nancy
 
Posted by at 12:00 AM
BARGAIN GUIDES , bargain news , Shopping Trends
|
0
Browsing through this weeks random free and almost free publications, I noticed a variety of Mother's Day spa specials. Doggie moms are moms too, right? And since my pooch don't got no daddy, I treated myself to an early Mother's Day present and booked a day of services Friday.
For $89 plus tip, I was promised a papaya mango body polish, a 30 minute massage and a mani/pedi. When I arrived at the spa, I was immediately turned off by the late 70's style chairs they have at the manicure stands. My brain reminded my mind not to judge a book by the cover, and I moved swiftly past said chairs to check in. The staff were courteous and contained only a little of the New York edge I usually encounter at these spa special joints. I was offered a choice between a Deep Tissue, Swedish or Craniosacral Massage, which I thought sounded like only a doctor should perform. I chose door #1, then took my robed and slippers to change.
The body scrub was okay. This may sound petty, but I get weirded out when I don't know the brand of products used. I'm fine going to Elizabeth Arden, Bliss or Aveda, but feel skeevy when random "papaya" lotion is lathered on my naked body. The woman scrubbed me all right. She damn near scrubbed this doggie mama raw; but afterward, I felt five pounds lighter and my skin soft like a baby's. My deep tissue massage made me scream in pain. I request three times not sooooo deep, and eventually she lightened up. Word of warning: if you can't take the heat, don't go in the Deep Tissue Massage's kitchen. Choose #2 or #3.
The mani/pedi concluded my treatment and was pretty standard with a little more scrubbing and massaging on my now nothing-but-bone calves. It was the same caliber you would get at a Bloomie's but with uglier chairs. My overall rating for this service is a low B. I would probably give it a C if it weren't so cheap and might even give it a low A if I knew the products used.
Is it worth it? If you need smoother skin and a massage, yes. But like everything these days, it depends on you budget. Should you give a Vada Spa for a gift for your mother? Probably not. But it is totally fine to get a friend or your brother's wife. No, really.
Vada Spa 387 6th Avenue between Greenwich and Waverly Open 9a.m. to 10p.m. 7 days a week. 212-206-1572
Posted by Emma Dinzebach at 12:00 AM
BARGAIN GUIDES , bargain news , BEAUTY , Shopping Trends , Spa Treatments , STYLE/BEAUTY , Tips Guides
|
Self tanning done right
3
Perhaps it's my Type-A personality, or perhaps I've seen one Oompa Loompa-esque lady too many emerge from a Mystic Tan session, but I have little tolerance for underperforming self tanners. The tint must be natural; the scent must be non-chemical; and the ability to prolong must exceed the expiration date of my bottle of soy milk.
If cream rises to the top, then so must a hazy copper that's mimicked only by a timeshare on an island. St. Tropez self tanner, $33 at Sephora, is hands down the best self tanner I've used, period. Venerable strangers approach me in the street after just one application to ask if I just came back from vacationing in Mustique with Diddy. Okay, so they don't ask me that, but I do get a lot of compliments on how 'healthy' I look. The key with Saint Tropez is patience. You'll need a pair of plastic hospital gloves (avoid latex if you can), a ratty towel, and a good two hours for thorough application and sufficient drying time. Available in a foam (my favorite), spray, mist, gel or liquid pump, Saint Tropez is not for the beginner. I repeat, not for the beginner. While the result is second to none, a rushed, novice application will prove fatal to your social life.
Origins The Great Pretender, $18 at department stores, is, like our sunny own Miss California, first runner up. The coverage is creamy and effortless and leaves behind a cool, minty scent; its major drawback is the subtle shimmer built into the formula. Loyal TVC readers will know that I'm not a fan of shimmer or sparkle in body products, unless it's on a 5-carat Harry Winston ring. The good news is that any remnants of a life lived on the Yellow Brick Road will wash off in the shower and leave behind a Jamaican-me crazy hue. The bad news is that it won't work if you're aiming to be out and about within an hour post-application. While Origins hits a home run with this product overall, avoid using it on your face. No one likes a disco ball head.
L'Oreal Sublime Glow moisturizing mist, $9, is a build-a-tan product that takes the cake for gradual tanners and self tan novices alike. I find that one application every three days is enough; applying a self tanner every day (as the bottle recommends) will leave people wonder if you've been plugged into an electric outlet. Unlike the St. Tropez and Origins tanners, this spray goes on clear. Bonus: it won't rub off on clothes. Yikes: since you won't be able to see it until the magic self tanning chemicals do their job, generally about an hour to two after application, any posthumous mistakes will be hard to fix.
One of the biggest complaints I hear of any self tanner are the not-so-sexy Orangina spirit fingers that are the unfortunate by-product of going sunless. Using a pair of plastic (not latex) hospital gloves will do the trick, as well as wiping hands clean with a wedge of fresh lemon. If you've got the bucks to spare, I highly recommend the St. Tropez self tan remover, $16, a miracle in a pump which also exfoliates hands to a glove-soft touch.
Like Michael Jackson once sang, 'Don't stop 'til you get enough' – but do wear your sunscreen.
-Karyn Polewaczyk
Posted by karynpol at 06:00 AM
BARGAIN GUIDES , bargain news , BEAUTY
|
Moving-On
1
There's nothing quite as frustrating as the quasi-menopausal temperature shift that inevitably hits the East Coast each and every spring. One day, it's 75 degrees and sunny and you're ready to call out sick to play Frisbee in the park; the next, you're bundled in a scarf, gloves and cursing the decision to live in a venerable winter wonderland 9 months of the year, wondering if those Floridian retirees are onto something.
When wearing white before Memorial Day is not an option and Ugg boots are out, what's a lady to do to get through the wacky weather spell that blesses and curses New York City until the last week of June – when, undeniably, it will become so scorching hot you'll have no choice but to indulge in Tasty D-Lite at regular intervals?
Like a good friend who reminds you to keep on working for the weekend (and those delicious roofdeck cocktails at the bar at 230 5th Avenue), The Vogue City presents its list of transitional wardrobe pieces that will not only carry you from spring to summer, but may even make you appreciate the hot and cold spells that are more sizzling and icier than the ones you give to your ex-boyfriend, twice removed.
-A lightweight cashmere cardigan is not only great for layering under a crisp poplin blazer, it also pairs well over a bikini at the beach. Just make sure to shake out the sand before you return to the office.
-A pashmina – or any big, comfortable and oversized scarf – doubles not only as a wrap over black tie cocktail dresses, but looks fresh when twisted into a necklace substitute with a tube top.
-Knee high leather boots – the same ones that got you through last month's snow squalls – will keep it kicking until the end of April; pushing them into May is questionable. Proceed with caution and be forewarned that such a decision will leave even an Adidas-clad street meat vendor scratching his head in bewilderment.
-Ribbed tanks layer well under just about anything and everything and are an absolute staple from January to December.
-Moleskin pants and skirts – also known as faux suede – are heavy enough to block a gust of chilly wind, but light enough to give your gams room to breathe when the mercury rises. Switch to seersucker or a three-season wool blend come June.
Other items – a twill trench, peep toe flats and a penchant for bargains – are year-round staples that get the green light no matter what the weather. Just don't blame us if your boss discovers you're "home with a head cold" while shopping on 7th Avenue.
-Karyn Polewaczyk
Posted by karynpol at 12:00 AM
APPAREL , BARGAIN GUIDES , bargain news , Fashion: Trends, Style, and Business , Style , STYLE/BEAUTY
|