Strike while the iron's hot. After all, she is your mother.
0
Last minute purchasers unite and mother's pass these along to your cash-strapped kiddies. Lucky for you, the spa industry's recovery is much slower than that of Goldman Sachs; and as a result, for Sunday, there are Mother's Day specials galore.
If you live midtown area – or your mother does – then on the west side, Faina Day Spa has a three hour special including manicure, pedicure, facial and aromatherapy massage. Or on the east side, and for $20 bone less, you're madre can enjoy a hot stone massage, ionic facial, seaweed massage and sauna at  Elemur Day Spa 56 on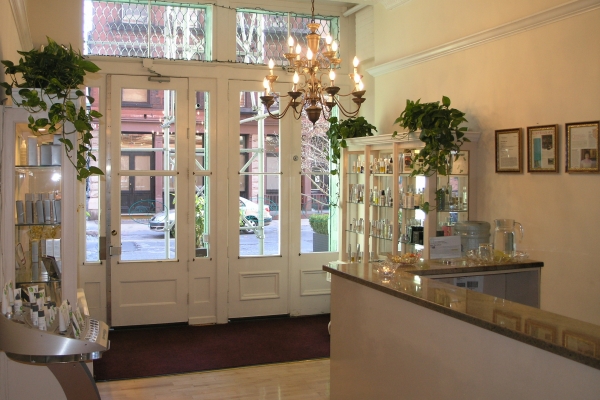 56th and 3rd. For downtowners, Tribeca Beauty Salon (pictured) on Harrison Street is offering both Mother's Day specials and mother and daughter packages. Supple Spa on 19th Street has $130 for two collegen facials for mothers and daughters.
For more mother's day spa specials, visit www.spa-nyc.com. Or go ahead and call your favorite spa and ask for mother's day specials. No matter how wonderful you think your favorite spa is, they are hurting for business like the rest of the industry. Strike while the iron's hot. After all, she is your mother.
Emma Dinzebach
Posted by Emma Dinzebach at 12:00 AM
bargain news , BEAUTY , Spa Treatments , STYLE/BEAUTY |
Our advice: research, research, research.
1
Once ubiquitous only in Chinatown, minor surgical procedures are now popping up in popular "medical spas" all around town. Offering minimally invasive treatments like laser hair removal and Botox are amongst the package places like Tribeca Med Spa offer to keep up with customer demand. Most city med spas do indeed have M.D.'s on staff to perform medical treatments, but currently no regulative legislation exists to ensure medical spas are keeping up to snuff – medically, legally and otherwise. After a fatal liposuction case at a medical spa in Florida last year caused concern across the country and indicated a need for stricter regulations. Proposed legislation aims to regulate who can own a medical spa, which procedures are allowed, the training and credentials the person performing those procedures must have, etc.
In New York City, reputable medical spas include Tribeca Med Spa, Sensitive Touch in Midtown East,  GemVie Medispa, and Cosmetic enhancement can include Mesotherapy, Lypodissolve, (which is a Level I liposuction technique), vein removal, Botox, Restylane and Juvaderm. Each of these medical spas offer consultation and treatment performed by the supervising M.D., but other medical spas in the area do not. Medical spas are attractive because they offer competitive price points for services that were once luxury options. While we haven't personally been to the above medical spas, for what it's worth Dr. Gerald Ginsberg, a cosmetic surgeon and medical director at Tribeca Med Spa was highlighted by the New York Times.
Our advice, as always, is to research, research, research because when you have a bad facial, the worse thing that happens is a little redness or an allergic reaction. When you have a botched Botox job, it's going to look a little worse. We found a site called Medical Spa MD, which appears to be a blog for the medical spa community and might be a good start to research the inner-workings.
Emma Dinzebach
Posted by Emma Dinzebach at 12:00 AM
bargain news , Spa Treatments , STYLE/BEAUTY |
A new breed of spas aims to extend the relaxing appreciation of a spa visit by massaging the mind as well as the body.
0
Living in the fastest city in the nation, we often forget to breathe deeply and appreciate the moment. So we seek symptom mollifying facials, massages and pedicures to make ourselves feel better; and for a moment, we relax. Mastering the art of extending that moment is a task most New Yorks aren't up for. Enter your serenity savoring savior: Exhale Mindbody Spa.
In the past several years, a new breed of spas have sprouted in the concrete jungle that aim to provide services for complete mind and body well-being. Exhale spa's website explains the concept as "merging the paths of mind and body well-being and fulfilling the need for an experience that improves and transforms lives in one environment." To achieve this, Exhale offers Yoga classes, Core strengthening classes, Spa services and a menu of Healing services such as acupuncture, cleanses, nutrition, even fertility and reproduction. Each individual services emphasizes the importance of the others in an effort to integrate the concept of balance and well-being into a lifestyle. Because a massage is great but better when accompanied by regular yoga practice.
Exhale has three locations in the city – Midtown, UES and Soho. Other spots that aim to fuse the mind and body to create well-being include: Soho Sanctuary, Ishta Yoga in the East Village and Reflections Yoga in Hell's Kitchen.
References: Acupuncture & massage Aberdeen
Posted by Emma Dinzebach at 12:00 AM
bargain news , Spa Treatments , STYLE/BEAUTY |
Sister of the ever-popular Gilt Group throws in a luxury spa service when you purchase a vaca discount.
0
Jetsetter, a subsidiary of the increasingly popular Gilt Group, is the "it" place to find luxury travel deals. They offer luxury hotels discounted for the duration of the sale (travel date restrictions apply) to places from Louisville to Luxembourg. What caught our attention this week, however, were the package details.
Many of the offers aren't just discounted rates on five star hotel suites but also include a spa treatment. And if you are staying at the best hotel in a given city, you can bet they have a pretty sweet spa. Like Gilt Group sales, the travel specials change each week and end when their allotted number of offers are sold out. This week, Jetsetter offered a discount package deal to The Tides in Zihuatanejo, Mexico. Never heard of it? Well you probably couldn't afford it. Beach suites on the website are $840 per night. On Jetsetter they are about $500 per night and you receive a complimentary spa service.
Similar offers are on sale this week for Phuket, Thailand and Charleston, SC. We learned that if you call the resort or hotel on sale and mention that you are thinking of purchasing a stay through Jetsetter, the staff are happy to help dissect the options. And like always, if Jetsetter isn't offering your ideal package, book your hotel through them for the discount and then call and ask for what you want.
Emma Dinzebach
Posted by Emma Dinzebach at 11:02 AM
APPAREL , Bargain Hunting , bargain news , Spa Treatments , STYLE/BEAUTY , TRENDS |