0
With temperatures and sunlight soaring past springtime standards, the follow up post to last week's sun safety tips couldn't come at a better time. The Vogue City is positioned as the lifestyle guide to living in the city on a budget; coincidentally, the best method of preventing sun damage is also the cheapest. Sunscreen – gobs of it – is absolutely essential as part of the battle against UVA and UVB rays, the precursors responsible for sun damage, sunburns, wrinkles and skin cancer. (UVA is what leaves that leathery, splotched skin that sunbathing beauties of yesteryear are known for; UVB goes deeper and causes cellular mutation, which can lead to skin cancer.)
When we say "gobs," we mean using far more than a precarious dab of Le Mer: experts say that an adult should apply a golfball-sized amount to face and body every 2 hours
while outdoors, and more frequently after swimming and toweling off (even if you're using a waterproof formula). Keep this in mind when galavanting about the Soho House in your finest Shoshanna two-piece suits, ladies.
Coppertone packs a one-two punch with their NutraShield formula in SPF 30 ($10 for 6 fl. oz. at Duane Reade). Its package claims it's "designed" for women: with added antioxidants and a hypoallergenic and non-comedogenic blend, we'd have to say it's also on par with our dermatologist's orders.
If sticky palms, a by-product of sunscreen application, has you down, reach for Banana Boat's Ultra Defense continuous spray in SPF 85 ($8-$10 at drugstores). Like Coppertone, Banana Boat's newest formula
contains cell-friendly antioxidants and aloe vera, plus a seriously kick ass level of SPF that will cause last year's sunburn to be a memory of summer's past.
Still not convinced you're ready to switch to the lighter side and nix your tanning habits? Ask the guy on the blanket next to you in Central Park if he'll mind dabbing a bit of SPF on your shoulder as you blissfully sip an iced latte. Enough said.
-Karyn Polewaczyk
Posted by karynpol at 06:00 AM
BARGAIN GUIDES , bargain news , BEAUTY
|
0
As winter's dark lipstick kisses its way out, sparkling eyes are back in the spotlight this spring.  With a variety of colors and styles popping up from Paris to Milan, you can change your look with a few swipes and a steady hand. 
Rainbow bright
Shades of aqua, fuchsia and lime can add a refreshing twist to even the most timid of peepers.  Use a crayon liner or a Q-tip edged in shadow to line the top or lower lid – but not both.  With your eyes making such a statement, keep the rest of your skin bare by avoiding bronzer or blush and sticking with a simple clear gloss over lipstick.  Top with lots of mascara. 
Fashionista pick:  Urban Decay matte eyeshadow in Purple Haze, $16
Recessionista pick:  CoverGirl eye enhancer in Tempest Turquoise, $5
Peachy keen
Tastier than your grocer's produce section, peach reemerged as a favorite shade for eyes of all colors.  Use a sheer, cream based shadow to cover from lash to brow, followed by a single coat of brown mascara on top lashes only.  For a triple knockout, add a light dusting of peach blush to the apples of the cheeks and top lips with a creamy peach lipstick. 
Fashionista pick:  NARS powder blush in Orgasm, $25
Recessionista pick:  Revlon powder blush in Perfectly Peach, $8
The cat's meow
A classic cat eye is one that never goes out of style.  Skip the liquid liner and opt for a lightweight pencil in navy, grey or plum, lining the top lids from inner corner to outer edge.  Wing the ends with a slanted makeup brush, and top with mascara on top and bottom lashes.  Try a berry stain or tinted gloss on the lips to complete your look.
Fashionista pick:  Tarte EmphasEYES self sharpening eye pencil in Plum, $18
Recessionista pick:  L'Oreal Pencil Perfect self sharpening eyeliner in Paris Blue, $9
As any great artist knows, practice makes perfect.  The best canvas starts with radiant inner beauty.
-Karyn Polewaczyk
Posted by karynpol at 06:00 AM
BARGAIN GUIDES , bargain news , BEAUTY
|
1
Mineral makeup has swept the beauty scene, with department stores and drugstores alike vying for a customer's every last pore.  Put down your stick concealer and walk slowly away – The Vogue City will make a believer out of even the most diehard liquid (foundation) lady.
Bare Escentuals bareMinerals powder foundation, $25, takes the cake on quality, price and coverage. 
Originally a QVC late-night special, specialty stores took note when sales skyrocketed.  Available at almost every Sephora and some full service salons, this venerable fairy dust comes in over ten shades and is miraculously free of all of those bad things – parabens, synthetic dyes and other harsh chemicals – that can irritate skin.  While Sephora offers great online shopping specials, this is one you'll want to test for yourself in store, in person, as the color tends to deposit darker on the skin than in the jar.
Mineral Fusion's loose base, $33 at Whole Foods, is a hearty contender in this battle of the beautiful.  
Also free of nasty additives, this powder sweeps on easily and gently.  However, at nearly $10 more per container, we expected more of a color selection and better packaging.  Nonetheless, a little goes a long way.
Neutrogena Mineral Sheers, $8, wins in the price department, and also comes in a convenient, travel-friendly shape with added brush. 
With only four colors to choose from and availability in drugstores only (most of which don't let you test product before you buy), it may seem like a bit of a drawback; one option is to buy two shades closest to you and mix to the perfect tone.  At $8 a pop, you can certainly afford to.
Janet Jackson is the only Nasty Girl we respect.  Keep your brushes clean by washing them once a week with gentle cleanser (baby shampoo works wonders) and air drying between use.  Your newfound glowing skin will thank you!
-Karyn Polewaczyk
Posted by karynpol at 06:01 AM
BARGAIN GUIDES , BEAUTY , STYLE/BEAUTY
|
0
The skincare junkie in me emerged early.  While friends would swap secrets before bedtime at middle school sleepovers, I was busy in the bathroom completing Clinique's 3-step skincare system.  I concocted
homemade masks of oatmeal and egg whites in high school; and in college, became obsessed with everything anti aging, sampling alpha hydroxyl acids the way Marie Antoinette tasted cakes.  My path to poreless enlightenment came to a screeching halt when my previously peaches-and-cream complexion became engulfed with cystic acne after using a high-end department store skincare line.  The only thing that brought relief was abstinence from overpriced jars of wonder cream, which, in my opinion, are packed with empty promises and far too many chemicals.  However, I still needed to cleanse, tone and moisturize, and with my cheeks, chin and nose on the defense, I had to tread carefully.  A friend recommended I try natural skincare products, a suggestion at which I initially scoffed.  I associated price with performance, a beauty blunder no matter what your budget.  I eventually came around, and five years later, haven't looked back to the glowing plastic beauty counters where I could normally be counted on every Saturday afternoon.
If you're a natural newbie or are just looking to test the rosewater, look no further:  The Vogue City's beauty department has you covered like SPF 45.
The Burt's Bees brand takes the cake for its combination of economics and capability.  Their carrot seed oil complexion mist, $10, is a must for on-the-go moisture touchups, and also works well over makeup to matte down loose powders and blushes. 
Juice Beauty's line, in addition to being paraben, pesticide and petroleum free, packs a punch against free radicals with a potent combination of antioxidants and vitamins.  Try their cleansing milk, $22, for a gentle-yet-effective (and delicious smelling) way to remove city grit and grime.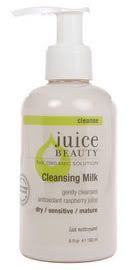 Say goodbye to crow's feet with Suki Pure's eye repair balm, $33.  Concocted with beta carotene and rose hips, this balm is gentle enough for everyday use, yet powerful enough to battle signs of aging overnight.
Last but certainly not least is Lush's Skin Nanny moisture cream, whose namesake does just that.  This rich moisturizer literally pampers and soothes even the most sensitive skin.  Priced around $46, it's a bit of a splurge, but Lush's staff swear a jar can last up to eight months.
Check your local Whole Foods for these and other natural skincare lines that are good for your skin, good for the environment and good for your wallet.  And what's not to love about that?
–Karyn Polewaczyk
Posted by karynpol at 06:01 AM
A FASHION , BARGAIN GUIDES , BEAUTY , Eco-Friendly , Fashion News , Shopping Trends , STYLE/BEAUTY
|