Unemployment Survival Guide
0
Aside from some intermittent sunny weather and some great finds at sample sales, New York seems to be full of doom and gloom these days. Stores are closing, restaurants are empty and friends are losing their jobs.
Being jobless in New York is challenging no matter how great your severance package is. Trimming your budget and job hunting is tough enough, but using your time well can be the hardest part of all. Ask any unemployed gal what she did with her first week of freedom and she'll probably answer "not much". Somehow a trip to the gym, deli and dry cleaner can suddenly consume the whole day, leaving a girl wondering how she ever had time for a job.
Here are some tips for being Unemployed and Fabulous in New York, from how to keep the days from disappearing to budget alternatives to the necessities to fun stuff you never have time for.
Using your time
Get up at the same time everyday – and make it early. The easiest way to lose a day is sleeping it away. And getting off to a late start will put you in the slacker mindset. Life is your full-time job now so get up for it.
Set a schedule for yourself each morning and stick to it. This is the best way to ensure your free day doesn't go to waste. If you have to do some job searching online, list the sites you need to visit and allot a certain amount of time to do it. The hours disappear way too easily when you're online.
Plan your days around interviews and appointments. If you have an interview in midtown on Tuesday, make that your day to have lunch with a friend that works in the area. If you are have a hair appointment in SoHo on Friday, make that your downtown day. A lot of time can be wasted getting around the city.
Fun stuff to do
Obviously this town is full of great museums and galleries so you don't need another list of those, but here are some fun activities you may not have thought of.
Make an appointment at Amsale or Kleinfeld's and try on wedding gowns – no one has to know you're not engaged. How often can you do that?
Clean out your closet and list the good stuff on Ebay. It takes a bit of time, but you're unemployed. And you might as well get a few dollars for it!
Hit the Union Square Farmer's Market. Anyone who has read French Women Don't Get Fat knows that really fresh local fruits and veggies are one of the secrets. And they really are much tastier It's open Monday, Wednesday, Friday and Saturday.
Make Jewelry – there are a bunch of great bead shops in the garment center on 6th Ave between 38th and 40th Streets. The prices are wholesale so they are very reasonable and they have all off the tools you need. If you are unemployed, you might as well have some new accessories.
Keep in Shape
For the generous severance package – Physique 57 The classes aren't cheap at $33 a pop. But this hour-long torture session is a favourite of Kelly Ripa and Karolina Kurkova among other ridiculously slim celebrities. Expect to feel pain in every muscle in your body (including ones you didn't know you had) for 2-3 days after. But stick with it – just looking at the instructors should be enough to inspire you. www.physique57.com.
For the not-so-generous severance package – Dance class. It's a fun and suprisingly affordable way to keep in shape. There are studios throughout the city offering ballet, jazz, modern and theatre dance classes. And the most expensive is $18. These studios often offer yoga, pilates and stretch classes at the same price. And they're great for celeb sightings – those performing on Broadway need to hone their dance skills.
Upper West Side – www.stepsnyc.com
Upper East Side – www.baenyc.com
Midtown West – www.broadwaydancecenter.com
Midtown Central – www.balart.com
Union Square – www.peridance.com
Downtown/Tribeca – www.dnadance.org
For the former employee of a company that has declared Chapter 11 – ride your bike or walk along the west side down to Battery Park. I did this recently and was amazed at the beautiful landscaping and how extensive the trail is.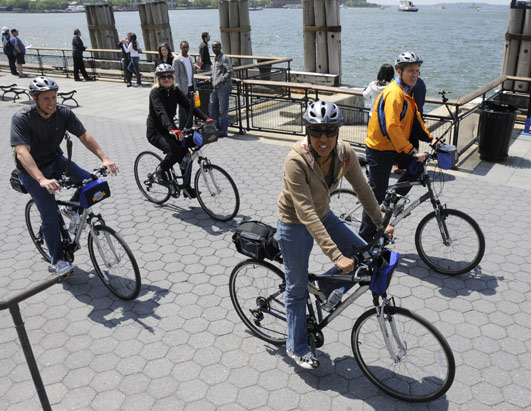 Personal maintenance
Ok, you may have to cutback on the trips to Sally Hershberger and the Red Door Spa, but you still need to be groomed for your interviews. Solution: Chinatown
Go for a blowout for $12-15 at the dozens of salons there. Try Tops Cut Salon – 76 Elizabeth Street (at Grand) 212.219.0728
Lose the blackheads and clean up the eyebrows at one of the skin care centers. They aren't fancy but most of them use great products, are very clean and affordable. Facials are as low as $45 at Katy's face on Mott Street. And they do a great job on eyebrows for $15.  Katy's Face 184 Mott St  (212) 226-3278, Face to Face Skincare 166 Mott St (212) 226-3312
–Nancy
 
Daily Sales Email, or Subscribed to our RSS Feed? Don't miss a Sale!
Posted by at 12:00 AM
BARGAIN GUIDES , bargain news , Shopping Trends |