0
As the last signs of snow melt away and we finally (Hopefully, fingers crossed!) say farewell to the bitter cold winter, pooch parks and city sidewalks will soon be flooded with the thousands of NYC pooches who are in need of some of that wonderful crisp spring air.  Since it has been what seems like an extremely long winter, I thought you might be a little rusty on the important dog laws of this city and could use a quick refresher course that will keep your pooch safe and your wallet full!
One of the most prevalent and most enforced is the  Dog Leash Law which states: If you are walking a dog in a public and / or open area next to a public area it is necessary to have your dog on a leash and that leash can be no more than six feet.  This law is important for the safety of fido, as you never know what can spook them with all the hustle and bustle of this city.
The Dog Waste Law comes with a stiff fine, but is incredibly easy to avoid….just pick up the poop!  (see, isn't that simple?) Infact, Trixie + Peanut sell Oxo-biodegradable "scoopies," which retail for $6.00 for a pack of 24,  are perfect for picking up the poop and saving the environment!
For additional NYC dog laws check out Downtown Pet's website, which has a complete list.
-Lindsey
Posted by ladidah146 at 06:00 AM
bargain news , DOGGIE , STYLE/BEAUTY
|
1
Mineral makeup has swept the beauty scene, with department stores and drugstores alike vying for a customer's every last pore.  Put down your stick concealer and walk slowly away – The Vogue City will make a believer out of even the most diehard liquid (foundation) lady.
Bare Escentuals bareMinerals powder foundation, $25, takes the cake on quality, price and coverage. 
Originally a QVC late-night special, specialty stores took note when sales skyrocketed.  Available at almost every Sephora and some full service salons, this venerable fairy dust comes in over ten shades and is miraculously free of all of those bad things – parabens, synthetic dyes and other harsh chemicals – that can irritate skin.  While Sephora offers great online shopping specials, this is one you'll want to test for yourself in store, in person, as the color tends to deposit darker on the skin than in the jar.
Mineral Fusion's loose base, $33 at Whole Foods, is a hearty contender in this battle of the beautiful.  
Also free of nasty additives, this powder sweeps on easily and gently.  However, at nearly $10 more per container, we expected more of a color selection and better packaging.  Nonetheless, a little goes a long way.
Neutrogena Mineral Sheers, $8, wins in the price department, and also comes in a convenient, travel-friendly shape with added brush. 
With only four colors to choose from and availability in drugstores only (most of which don't let you test product before you buy), it may seem like a bit of a drawback; one option is to buy two shades closest to you and mix to the perfect tone.  At $8 a pop, you can certainly afford to.
Janet Jackson is the only Nasty Girl we respect.  Keep your brushes clean by washing them once a week with gentle cleanser (baby shampoo works wonders) and air drying between use.  Your newfound glowing skin will thank you!
-Karyn Polewaczyk
Posted by karynpol at 06:01 AM
BARGAIN GUIDES , BEAUTY , STYLE/BEAUTY
|
0
The skincare junkie in me emerged early.  While friends would swap secrets before bedtime at middle school sleepovers, I was busy in the bathroom completing Clinique's 3-step skincare system.  I concocted
homemade masks of oatmeal and egg whites in high school; and in college, became obsessed with everything anti aging, sampling alpha hydroxyl acids the way Marie Antoinette tasted cakes.  My path to poreless enlightenment came to a screeching halt when my previously peaches-and-cream complexion became engulfed with cystic acne after using a high-end department store skincare line.  The only thing that brought relief was abstinence from overpriced jars of wonder cream, which, in my opinion, are packed with empty promises and far too many chemicals.  However, I still needed to cleanse, tone and moisturize, and with my cheeks, chin and nose on the defense, I had to tread carefully.  A friend recommended I try natural skincare products, a suggestion at which I initially scoffed.  I associated price with performance, a beauty blunder no matter what your budget.  I eventually came around, and five years later, haven't looked back to the glowing plastic beauty counters where I could normally be counted on every Saturday afternoon.
If you're a natural newbie or are just looking to test the rosewater, look no further:  The Vogue City's beauty department has you covered like SPF 45.
The Burt's Bees brand takes the cake for its combination of economics and capability.  Their carrot seed oil complexion mist, $10, is a must for on-the-go moisture touchups, and also works well over makeup to matte down loose powders and blushes. 
Juice Beauty's line, in addition to being paraben, pesticide and petroleum free, packs a punch against free radicals with a potent combination of antioxidants and vitamins.  Try their cleansing milk, $22, for a gentle-yet-effective (and delicious smelling) way to remove city grit and grime.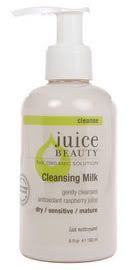 Say goodbye to crow's feet with Suki Pure's eye repair balm, $33.  Concocted with beta carotene and rose hips, this balm is gentle enough for everyday use, yet powerful enough to battle signs of aging overnight.
Last but certainly not least is Lush's Skin Nanny moisture cream, whose namesake does just that.  This rich moisturizer literally pampers and soothes even the most sensitive skin.  Priced around $46, it's a bit of a splurge, but Lush's staff swear a jar can last up to eight months.
Check your local Whole Foods for these and other natural skincare lines that are good for your skin, good for the environment and good for your wallet.  And what's not to love about that?
–Karyn Polewaczyk
Posted by karynpol at 06:01 AM
A FASHION , BARGAIN GUIDES , BEAUTY , Eco-Friendly , Fashion News , Shopping Trends , STYLE/BEAUTY
|