Cosmeticaholics anonymous
0
The skincare junkie in me emerged early.  While friends would swap secrets before bedtime at middle school sleepovers, I was busy in the bathroom completing Clinique's 3-step skincare system.  I concocted
homemade masks of oatmeal and egg whites in high school; and in college, became obsessed with everything anti aging, sampling alpha hydroxyl acids the way Marie Antoinette tasted cakes.  My path to poreless enlightenment came to a screeching halt when my previously peaches-and-cream complexion became engulfed with cystic acne after using a high-end department store skincare line.  The only thing that brought relief was abstinence from overpriced jars of wonder cream, which, in my opinion, are packed with empty promises and far too many chemicals.  However, I still needed to cleanse, tone and moisturize, and with my cheeks, chin and nose on the defense, I had to tread carefully.  A friend recommended I try natural skincare products, a suggestion at which I initially scoffed.  I associated price with performance, a beauty blunder no matter what your budget.  I eventually came around, and five years later, haven't looked back to the glowing plastic beauty counters where I could normally be counted on every Saturday afternoon.
If you're a natural newbie or are just looking to test the rosewater, look no further:  The Vogue City's beauty department has you covered like SPF 45.
The Burt's Bees brand takes the cake for its combination of economics and capability.  Their carrot seed oil complexion mist, $10, is a must for on-the-go moisture touchups, and also works well over makeup to matte down loose powders and blushes. 
Juice Beauty's line, in addition to being paraben, pesticide and petroleum free, packs a punch against free radicals with a potent combination of antioxidants and vitamins.  Try their cleansing milk, $22, for a gentle-yet-effective (and delicious smelling) way to remove city grit and grime.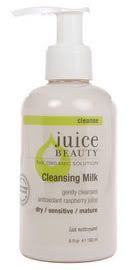 Say goodbye to crow's feet with Suki Pure's eye repair balm, $33.  Concocted with beta carotene and rose hips, this balm is gentle enough for everyday use, yet powerful enough to battle signs of aging overnight.
Last but certainly not least is Lush's Skin Nanny moisture cream, whose namesake does just that.  This rich moisturizer literally pampers and soothes even the most sensitive skin.  Priced around $46, it's a bit of a splurge, but Lush's staff swear a jar can last up to eight months.
Check your local Whole Foods for these and other natural skincare lines that are good for your skin, good for the environment and good for your wallet.  And what's not to love about that?
–Karyn Polewaczyk
Daily Sales Email, or Subscribed to our RSS Feed? Don't miss a Sale!
Posted by karynpol at 06:01 AM
A FASHION , BARGAIN GUIDES , BEAUTY , Eco-Friendly , Fashion News , Shopping Trends , STYLE/BEAUTY |