French Thanksgiving
0
Thanksgiving; a whole day dedicated to being thankful. All across America, turkeys are in the oven Thursday morning, dough is being knead in order to make pie and yams and potatoes are peeled. As family gathers to celebrate this American tradition, the millions of new Americans salivate at just the thought of a whole day dedicated to food (no work and no school is a plus!). Although I was born here, my whole family is Eastern European and we are meat and potato people almost every day of the year. Although we have the basics for a thankful and scrumptious Thanksgiving; big bird, lots of carbs, and calorie infested pie-like desserts, we put our home-style twist on it.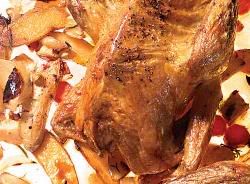 (Photo by Kang Kim. Food Styling by Alison Attenborough NY Mag)
While browsing New York Magazine online, I came across an article called "French Thanksgiving" (Published on Nov. 2nd, 2007) in which French Chef Laurent Tourondel also creates his own culture friendly Thanksgiving. Glad to know that I wasn't the only one altering American Tradition in order to coincide with my Polish heritage; my French co-worker Cecile (who is our Creative Director for TVC has only been in NY for 4 months) was thrilled to know that she can relate Thanksgiving to something that is not completely foreign.  Chef Tourondel is the mastermind behind the BLT empire (BLT Steak, BLT Fish, et al) and seems to agree in making Thanksgiving culture friendly, especially since we live in New York. Like many immigrants (my parental included), Chef Tourondel did not get the concept of Thanksgiving, but he now enjoys it more than Christmas.
For his Thanksgiving dinner, Chef Tourondel roasts guinea hens instead of the traditional American 20lb bird, which also avoids the argument amongst neighborhood housewives and family rivals: "my turkey is bigger than your turkey".  His family is from the French country side so keeping with the theme, Chef Tourondel stuffs the hens with fall chestnuts and pork sausage, roasting them on a bed of fingerling potatoes, celery roots and carrots. He serves sautéed Swiss chard with bacon and stirs in butter at the very last moment (a Gallic touch which makes the chard uber silky) for his side dish. Chef Tourondel says it is a tweak on creamed spinach.  After this kind of meal, who wouldn't be full? But I always say – there is ALWAYS room for dessert! Chef Tourondel serves and apple cake as opposed to a pie and drowns the final product in Calvados sauce.
(Photo: Kang Kim)
For all the Frenchies out there (and those who adore French cuisine), click here is  the link to the mouthwatering recipes of Chef Laurent Tourondel.
Daily Sales Email, or Subscribed to our RSS Feed? Don't miss a Sale!
Posted by at 06:00 AM
bargain news , DECOR , Manhattan , STYLE/BEAUTY |