Fashion Gains Devotees, Loses Cache
The mass marketing has caused fashion to lose some of the elusive cache that lured us devotees into the fold in the first place.
0
Being a fashion designer and being an apparel maker used to be two separate things. People who cut shapes for products for Wal-Mart were hardly held a candle to masterminds like Coco Chanel trouncing down the catwalk at Fashion Weeks in New York, Paris and Milan.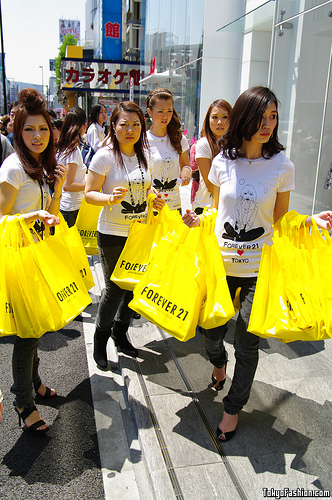 But the population grew and the Lower East Side emerged. Designers "making it" doubled forcing the fashion forward into a state of constantly reinventing themselves. Then came Project Runway, Mizrahi took Target and the rest is fashion history. The separation between haves and have-nots was no longer a price point but a point of style.
New generations bred their own style -more distinct, more on point and changing faster than ever. If boho chic was hot in Spring, you can better your braided hair band Fall will paint you black and motorcross. With so many changes, the consumer gravitates towards also quickly changing and cheaper copy brands and braces herself for yet another eighties revival. An accessible atmosphere that provides something for everyone and fashion has it's highest ever number of devotees.
But the mass marketing and something-for-everyone mentality has caused fashion to lose some of the elusive cache that once drew us devotees into the fold in the first place. How to hold onto old world fashion involves choice. Sure it's easy to get a quick fix by rushing out to Top Shop, Zara and H&M for all of your trendy needs, but wait. Fashion styles are recurring and making thoughtful, choosy purchases keeps your wardrobe lux while allowing you to truly appreciate a piece. Hand-crafted and beautiful is what made fashion an art – not mass produced with single thread stitching. What you buy reflects who you are and your view of fashion.
So you waited (and saved) for months to buy that perfect buttery Italian leather Balenciaga or timeless pair of black Prada pumps. What you buy reflects who you are your view of fashion. And if history is any indication, like your personal devotion to fashion, those pieces will never fade.
Emma Dinzebach
Daily Sales Email, or Subscribed to our RSS Feed? Don't miss a Sale!
Posted by Emma Dinzebach at 12:00 AM
Bargain Hunting , bargain news , STYLE/BEAUTY , TRENDS |