Cowboy Casanova
There is something about a man doing physical labor. Not like the hipster carpenters we see here, but like the sweaty until they have to take off their shirt kind.
0
After dating half the men at the Vampire squid, a few Columbia MBAs, a Ph.D. in bioethics and a handful of hot and sweaty Eurotrash, my friend declared a break. "They are either [in NYC] to party or jaded by their inflated bonuses. I love to party and spend bonuses, but the whole scene is an endless game of 'I don't even know his last name'!" She went on to express the typical Gotham man's lack of romantic gestures, bulging ego and the annoying click of their Hermes loafers. With the New Yorker's rampant dating anxieties reaching their maximum capacity and our eternal quest for the newest, shiniest toy, it's a wonder we don't spontaneously combust. Much like my current hiatus, she aimed to reorganize her dating priorities…and breathe.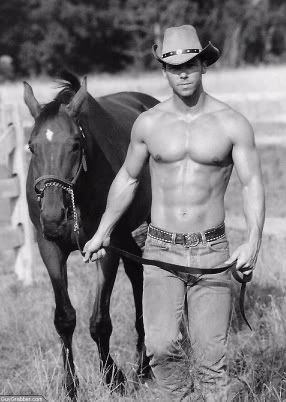 Until she went down South for an alumni weekend and reconnected with an undergrad crush. Monday morning, she had flowers on her desk. The next Monday morning, more flowers. A floor full of ex's walked by and wondered: Who was sending her flowers? Why was she sublimely happy? "Way to stick it to God's paper pushing minions!" I exclaimed; but this time, it wasn't about the upper hand. When she took herself away from Gotham, she opened herself up to a simpler kind of romance she had formerly judged as unsophisticated, unsavvy and uncool. Several months and many rendezvous weekends later, she is happy. During the weekday she still acts like the anal and neurotic New Yorker she is, but on the weekends she allows herself to be treated like a lady.
"Plus, there is something about a man lifting and fixing and doing physical labor. Not like the hipster carpenters we see here, like strong and sweaty until they remove their shirt kind of physical labor. Girls in Gotham don't know what they're missing."
Emma Dinzebach
Daily Sales Email, or Subscribed to our RSS Feed? Don't miss a Sale!
Posted by Emma Dinzebach at 12:00 AM
Bargain Hunting , bargain news , New York Survival Guide , Points of View , STYLE/BEAUTY , TRENDS |