0
Notoriously slow February transformed into super-slow February last week when two feet of snow plummeted East Coasters into hibernation. So everyone had to stay at home and turn on their own televisions rather than gathering at their friend's house to watch just one television, making Super Bowl XLIV the most watched U.S. television event ever.
Malls and stores across the country closed or altered their hours due to weather conditions. On the worst day, Saturday, 65 Macy's stores and 5 Bloomingdale's locations closed. Target Corp. said the weather disrupted  business in 70 of their east coast stores. And the Dow but it closed last week down a hundred points. Retailers are banking on Valentine's Day and the long weekend to bump up their sales which normally account for $14 billion in U.S. consumer spending. Monday, the Dow was back up near 10,000 and by final bell yesterday, retail stocks were up 1.2% and the Dow pushed past 10,000.
Oh but silly snow can hardly halt New York Fashion Week. Despite the Big Apple's wintry weather conditions and the anticipated 6-10 inches to come, fashion minions are in full preparation mode. Shows are slated to begin Thursday as planned. The Council of Fashion Designers of America and IMG both noted that there is no room for schedule changes. Immediately following New York all designers, models and industry professionals have London, Milan and Paris. In other words, the show must go on. And we will report on that show next week…in shopping.
Emma Dinzebach
Posted by Emma Dinzebach at 12:00 AM
Bargain Hunting , bargain news , New York Survival Guide , STYLE/BEAUTY , TRENDS |
There is something about a man doing physical labor. Not like the hipster carpenters we see here, but like the sweaty until they have to take off their shirt kind.
0
After dating half the men at the Vampire squid, a few Columbia MBAs, a Ph.D. in bioethics and a handful of hot and sweaty Eurotrash, my friend declared a break. "They are either [in NYC] to party or jaded by their inflated bonuses. I love to party and spend bonuses, but the whole scene is an endless game of 'I don't even know his last name'!" She went on to express the typical Gotham man's lack of romantic gestures, bulging ego and the annoying click of their Hermes loafers. With the New Yorker's rampant dating anxieties reaching their maximum capacity and our eternal quest for the newest, shiniest toy, it's a wonder we don't spontaneously combust. Much like my current hiatus, she aimed to reorganize her dating priorities…and breathe.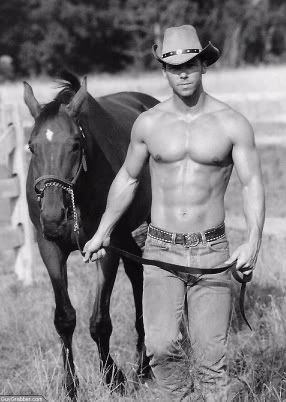 Until she went down South for an alumni weekend and reconnected with an undergrad crush. Monday morning, she had flowers on her desk. The next Monday morning, more flowers. A floor full of ex's walked by and wondered: Who was sending her flowers? Why was she sublimely happy? "Way to stick it to God's paper pushing minions!" I exclaimed; but this time, it wasn't about the upper hand. When she took herself away from Gotham, she opened herself up to a simpler kind of romance she had formerly judged as unsophisticated, unsavvy and uncool. Several months and many rendezvous weekends later, she is happy. During the weekday she still acts like the anal and neurotic New Yorker she is, but on the weekends she allows herself to be treated like a lady.
"Plus, there is something about a man lifting and fixing and doing physical labor. Not like the hipster carpenters we see here, like strong and sweaty until they remove their shirt kind of physical labor. Girls in Gotham don't know what they're missing."
Emma Dinzebach
Posted by Emma Dinzebach at 12:00 AM
Bargain Hunting , bargain news , New York Survival Guide , Points of View , STYLE/BEAUTY , TRENDS |
Wall Street wha, wha, wha, twenty ten forecasts, and how to cope with retail news overload.
0
In case anyone still cares about the Wall Street bonuses, which no one does because there are international crisis like earthquakes and abducted children and suicide bombers to worry about, the over-valuating bankers will, supposedly, boost retail. But being part of the retail and all, we cannot help but be happy for that and promptly move on…
For Twenty-Ten, there are many changes big and small in the air for retailers. In Cali, Forever 21 launched a new department-style store about 20 miles outside of L.A. The "emporium" will apparently provide more choices and hopefully be more organized, feature nicer staff and less damaged clothing items. Luxottica sales were down, but for some reason they see sunshine in the year ahead.
Apparently Target will fine tune their marketing strategy to (re)focus on quality rather than, er, guest designers? We thought that did indicate quality? Apparently the "Expect More, Pay Less" will emphasize the "Expect More" part. Retailers outlined their twenty ten strategies and sent them in to WWD in case you were in the market for some light reading. All in all, last week was shitty with the retail market down 1.9%, so drumroll please… In a surprise showing, French Connection, DSW, Frederick's of Hollywood and Ann Taylor were in the black. Our old favorites Phoenix Footwear, Crocs, Bluefly and Sally Beauty are in the red.
As for twenty ten ahead, who really knows anything save that we will continue to be bombarded with retail overload. So we'll just bring it week by week…in shopping.
Emma Dinzebach
Posted by Emma Dinzebach at 12:00 AM
Bargain Hunting , bargain news , New York Survival Guide , STYLE/BEAUTY , TRENDS |
Seasonally appropriate splashes of color to ease your mid-winter blues.
0
Mid-January has been a bit warmer in Gotham, reminding us it's time to turn the tables on the Center for Disease Control with their contrived studies, to wipe away what's left of Seasonal Affective Disorder, and to add something bright to our tired (but reliable) blacks and greys. Last week we scoured samples sales and the world wide web ISO color just to find that it's actually quite easy to let your wardrobe change the color on your mood ring.
Sure we embrace color for holiday parties or charity galas, but who says our every day doesn't need pizazz. From turquoise jewelry to red hats, stores are chock full of color for those craving something happier. An entire bright outfit might make you look like that crazy bird woman in Central Park, so choose a piece or two to dominate the look. Skirts are great transitional pieces. Accessories like hats and scarves are likely marked down, and a good piece of turquoise jewelry is an investment item. Pick your pleasure.
Emma Dinzebach
Posted by Emma Dinzebach at 12:00 AM
APPAREL , Bargain Hunting , bargain news , New York Survival Guide , STYLE/BEAUTY , TRENDS |