Trading up for some schmutz blocking drapes
Swamping curtains in my quest to dirt-proof my apartment
0
Swamping curtains in my quest to dirt-proof my apartment
Having read the New York Times article "Soil in the City" on the current state of the city's dirt factor, I quickly decided to chuck my haven't-been-washed-since-I-bought-them curtains for the sake of my allergies. Seeing that $400 to shampoo my sofa, chairs, and rugs is something I have in my "probably should but won't" to-do list, I decided to go the cheaper route and give another soot proofing technique some thought. I decided to take some advice on switching out your dusty, old curtains from interior designer Jayne Michaels who has to contend with dirt wafting into her East 57th Street apartment. It's so bad that her bath water turned black the last time she had to rinse and soak her curtains.
Naturally I first headed over to IKEA and spotted these sheer panel curtains in a muted black and white bamboo print (Anno Unni, $29.99) in polyester.
Michaels mentioned that she swapped linen drapes for ones made of "wash and wear" polyester but seeing as finding cute polyester curtains was a rare feat I also looked at some cotton ones. For $20, I spotted these two pretty blossom prints at Urban Outfitters.
The Blossom Tree curtains sported larger burgundy, pink, and green blooms whilst the semi-sheer Asian Blossom curtains were in a tiny pink and lavender print against a turquoise background.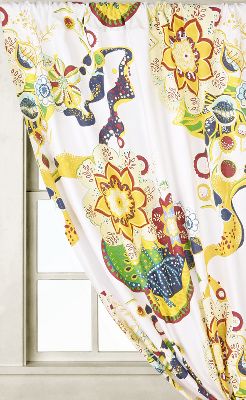 Though for a bit more you can get the graphic Botanist curtain peppered with lemon, lime, and cherry swirls of blooms and leaves ($48). Just know, whatever you pick… your sinuses will thank you.
-Wendy
Daily Sales Email, or Subscribed to our RSS Feed? Don't miss a Sale!
Posted by at 12:00 AM
bargain news , DECOR , STYLE/BEAUTY |