A Dog Walks Into A Bar...
0
For New Yorkers, bringing your dog with you for day-to-day activities has become quite the norm. Whether it's out to lunch at an ultra chic corner café, a stroll around central park, or a long day of shopping down Fifth Avenue your four-legged friend is with you every step of the way.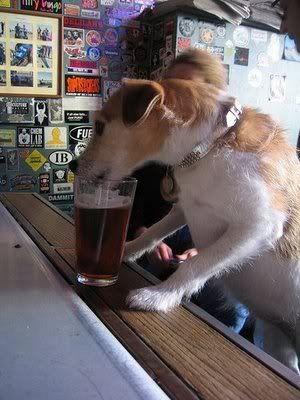 Why stop there? We have recently noticed a trend of dog-centric bars that are now very open to the pooch population, allowing man's best friend to tag along as you pull up a seat for a drink. As long as your dog is on his/her best behavior, there are several places that are incredibly accommodating.
Although they don't allow dogs during the week, The Ginger Man on E 36th Street is extremely pet friendly on Saturday and Sunday welcoming all well-behaved dogs. www.gingerman-ny.com
With their resident "house dog", an incredibly friendly pit bull, Von Bar on Bleeker will pour you a glass of one of their finest wines and will pair it with a delicious Milkbone for your pampered pooch. www.vonbar.com
For all you Upper East Siders, Fetch is the perfect outdoor spot to grab a few drinks with your closest fashionistas (including the four legged ones) while listening to great live music and perhaps find a new best friend. (They have pet adoption applications on hand!) www.fetchbarandgrill.com
Although there is no legal drinking age for dogs, you probably shouldn't let your pup partake in the drinking festivities. These dog-friendly pubs are a great way to include your canine in all of your nightlife activities.
-Lindsey
Daily Sales Email, or Subscribed to our RSS Feed? Don't miss a Sale!
Posted by ladidah146 at 06:00 AM
DOGGIE , STYLE/BEAUTY |