The city's various Earth Day events that help you get your greens.
0
This week, in honor of Earth Day, we get to expand our eco-friendly palate with some other city favorites. We're huge fans of Quantum Leap and the East Village's Organic Grill. We love the sustainability idea behind Rogue Tomate and the local flavors at Cookshop. For time-tested and tasted healthiness, we rely on veteran Souen in Union Square and Soho. And for Earth week, we eat Italian.
Il Buco, the old world Italian restaurant on Bond Street, is honoring Earth Day with their 3rd annual rainforrest fundraiser. Il Buco offers 15% off lunch tabs from noon to 4 p.m. through Saturday, and donates the savings to save the rain forest. (If you haven't eaten at Il Buco, take advantage of this offer and get the bruschetta with mussels, gambas, pollo and pasta special of the day or risotto.)
Jonesing for a more crowded Earth Day celebration? Join everyone and their mother at Grand Central, the annual Earth Fair highlights organic food, preparation and nearby restaurants.
Emma Dinzebach
Posted by Emma Dinzebach at 12:00 AM
bargain news , BODY/MIND , Mind , Places , Restaurants , Shopping Trends , The City , Tips Guides
|
Bohemian: a person who lives and acts free of regard to convential rules and practices.
0
Not one for hemp sandals and dreads, I was momentarily resistant to the boho revival until I tasted Proenza Schouler Spring 2010 tie dye, Love Shop maxi dresses, and Rika scarves. Then I thought maybe there is still something fashion can derive from hippies.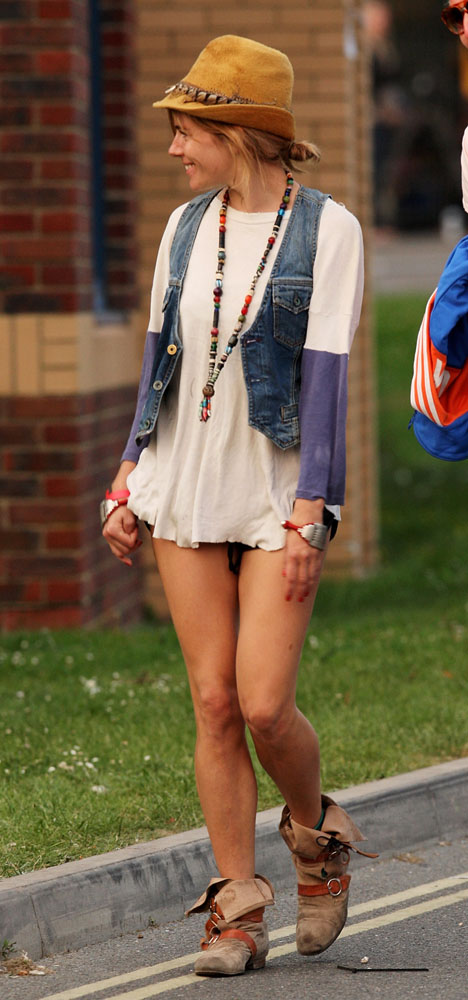 Boho, a style that Sienna Miller made famous and Kooba made into a Sienna handbags, is a nickname for bohemian – a person who lives and acts free of regard to conventional rules and practices. Like the varied print combinations that pranced down the Spring 2010 runways, for fashion, being boho means mixing and matching like it's nobody's business. Denim with lace, tie dye t-shirts and skirts – you name it, it goes. Anything goes! Well, almost anything.
To pull off boho, you have to embody boho's spontaneous style and attraction to comfort. If you love your Madewells or live all summer in your Vince cuffed jean shorts, this is the season for you. Everything boho goes with denim – denim dresses, denim bibs, and vests. Flouncy, printed shirts and soft pima cottons can be worn alone or layered. To pull off this look the style is in the details. Necklaces, bracelets, rugged boots and headwraps make your boho look your own. Don't be afraid to mix and match (with some purpose) you're favorite pieces. And while you're busy coloring outside the lines, have fun.
Peace, Love & Proenza.
Emma Dinzebach
Posted by Emma Dinzebach at 12:00 AM
APPAREL , bargain news , STYLE/BEAUTY
|
Guns don't kill people. Tanning beds kill people.
0
Most beauty posts last week focused on the Academy Awards dress, jewelry, make-up and hair. But take a second look and you might notice white. Ubiquitous, er rampant, white. Maybe celebs lathered on sunscreen during their winter vacations so the rest of America wouldn't feel raging jealousy that their monetary status lends blizzard escapes. Or they are trying to show Jersey Shore lovers that guns don't kill people, tanning beds kill people.
But seriously, the amount of red carpet white was stunning. Skin looked exfoliated, scrubbed and very well protected from the big bad sun. The cheeks were quite bare – just a swipe of shimmery pink or the teeniest hint of tan. "It's an entire movement towards a more pure lifestyle," said my favorite Bliss facialist. Keeping skin safe from UVA rays (see also: anti-melanoma trend) is a lifestyle choice. And as much as we love J Wow and Snookie, skin cancer, we don't want age spots and wrinkles in our future. We're fine with glowing white faces for our gala's this spring. So as the sun starts to show it's pretty face, lather up liberally ladies. Lather up.
Emma Dinzebach
Posted by Emma Dinzebach at 12:00 AM
bargain news , BEAUTY
|
Even without a sunny vacation, you can attain a mid-winter glow from inside out.
0
Some of our friends flew South (really far South) to catch a mid-winter glow, but we weren't so lucky. So we set off to find our get our glow on el natural. Face masks, bronzer, extensive exfoliation, and a even pricey facials only got us so far. To obtain an authentic mid-winter glow, we had to work our way from the inside out.
Sweat, however uncomfortable and icky it might be, is your dull winter skin's best remedy. Why is sweat so good for your skin? A good sweat can remove up to 30% of your body's toxins.  Foods we eat, drinks, and the smoggy city we live in fill our bodies with toxins on a daily basis. Sure our body naturally rids itself of some toxins, but sweating is a fool proof way of cleaning our bodies and making our skin shine bright.  (Incidentally sweat helps regulate our pulse and calm our neurotic NYC nerves.)
Winter might be a time when you sweat less – the gyms are cooler, outdoor runs are increasingly difficult with the streets covered in snow and slush, etc. But winter is one of the most important times to flush your skin. So hit the gym, got to hot yoga, or run the stairs in your apartment building. But by all means, sweat once a day to rejuvenate your skin.
Emma Dinzebach
Posted by Emma Dinzebach at 12:00 AM
bargain news , BEAUTY
|