0
WHAT: Bodyography Makeup, Brushes, & More Online Sample Sale @ Ruelala.com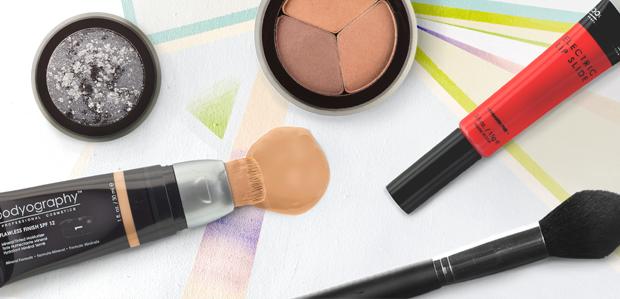 WHY: Bodyography Makeup, Brushes, & More up to 60% off!
WHEN: 8/24 11am – 8/26 11am
WHERE: RueLaLa.com
*To sign up & access the sales, please click here.
Posted by Bindra at 06:10 AM
Beauty , Online Sample Sales , Today's Sales
|
0
WHAT: Bobbi Brown Makeup Lesson Mega Event
WHY: Don't miss out on the Secret to Perfect Skin at Bobbi Brown Makeup Lesson Mega Event.
Come by the Bobbi Brown Bloomingdale's counter at 59th Street on 4/16 from 10 – 3pm EST.
Bobbi Brown will be hosting an exclusive #InstaMeet with beauty blogger Something Navy and BB Pro Team Makeup Artist Kim Soane. Come in for a makeup Master Class & more! Learn how to reveal the confident, sexy & hot new you!
Call now to book your appointment: 212.705.2055
WHEN: 4/16; Th (10-3)
WHERE: Bloomingdale's
1000 Third Avenue
New York, NY 10022
212-705-2000
Posted by Bindra at 01:30 AM
Beauty , Events & Promotions , Today's Sales
|
0
WHAT: Laura Geller Makeup Online Sample Sale @ Ruelala.com
WHY: Laura Geller Makeup up to 60% off!
WHEN: 11/6 11am – 11/8 11am
WHERE: RueLaLa.com
*To sign up & access the sales, please click here.
Posted by Bindra at 07:23 AM
Beauty , Online Sample Sales , Today's Sales
|
0
Many stars shone brightly at the Met Ball with their floor length gowns and impeccable hair. Today, though, we're dishing on some of our favorite cosmetics looks from the evening.
For example, we loved Beyonce's gothic goddess vibe, Cara Delevingne's super smokey eye, Lupita's fresh, spring-inspired face and Taylor's classic red lip and winged eye combo.
With the help of Palladio Cosmetics and glo minerals' makeup, we're showing you how to get each of the four aforementioned looks. You can use the makeup products listed below, or you can use a similar product you already have on hand.
Cara's Smoky Eye and Statement Brow
Shade the lid up to the crease and below the eye with a dark brown eye pencil, such as glō minerals' Jeweled Eye Pencil in Bark ($18). Blend it out with a brush for a soft, smoky effect.
Next, apply a black eye pencil, such as glō minerals' Precision Eye Pencil in black ($16), both above the lash line and inside the upper and lower waterline. Make sure you choose a product that's water resistant to ensure it stays on all night.
To achieve Cara's enviable brows, start by gently filling in any sparse spots with a brow pencil that matches your brows' darkest hairs. After blending thoroughly, set the brow with a clear gel to prevent any out-of-place hairs and add a touch of shine.
Complete this smokey eye look with several layers of your favorite mascara.
Beyoncé's Gothic Lip and Bronzed Eye
Wine lips are all the rage right now, and Beyoncé definitely went for it at the Met Ball with a deep berry lip that flawlessly completed her Givenchy haute couture ensemble. The key to making a statement lip work is the right preparation: exfoliate your lips ahead of time, then apply a lip liner to prevent feathering and ensure your lipstick lasts through the night. The Palladio Herbal Perfecting Lip Liner ($5.99) is cool because it's a clear formul.
Follow the liner with a dark garnet shaded lipstick. What you select depends on your coloring, so try a few shades before settling.
To balance out this wine lip look, Bey kept her eyes simple. To recreate a similar eye, sweep a slightly shimmery bronzer over the cheeks and onto the eyelids for a subtle glow.
Lupita's Lilac Eye Look
Recently named "The Most Beautiful Woman in the World," Hollywood favorite Lupita Nyongo set off her emerald gown and springy headband with soft lilac and perfect skin. For this look, we're referring to Palladio's Herbal Eyeshadow Quad in Spellbound ($8).
Start by using the lower left shade – a shimmering, pigmented lilac – over the lid to build a strong color. Gently blend some of the same color on the lower lash line.
Use the upper left shade – a pale lavender-tinged shimmer – to subtly highlight the brow bone and inner corner of the eye.
Finish the look with a pink flush of blush. We recommend a very pink and springy look for this.
For your lips, apply a peachy gloss, such as glō minerals' limited edition gloss in Delight ($16).
Taylor's Classic Red Lip/Winged Eye Combo
Country Darling Taylor Swift is forever wearing a red lip, so it wasn't a surprise to see her in that signature berry red at this year's Met Ball. The whole look was straight out of Old Hollywood
After prepping your lips with a balm, reach for the perfect shade of red. You'll want one that leans more "blue red" instead of "pink red." The former is more traditional, Old Hollywood and will make your teeth whiter, too. Try Palladio's High intensity Herbal Lip Balm ($6.99) in Red Rush for the same bright, matte lip as Swift's.
Taylor also wore a classic cat eye. We recommend a liquid liner to get that same perfect and dramatic line. Try glō minerals' Graphic Liner ($20), which features a sturdy felt tip.
Finish with your choice mascara.
By Wendy Rose Gould
Posted by Wendy Rose Gould at 07:30 AM
BEAUTY , Celebrities , Opinions , Trends
|