0
WHAT: Clarins Online Sample Sale @ Gilt
WHY: Clarins Skincare up to 70% off!
WHEN: 7/23 8am – 7/25 8am
WHERE: Gilt.com
*To sign up & access the sales, please click here.
Join Gilt to find the best brands at 70% off – no coupon needed!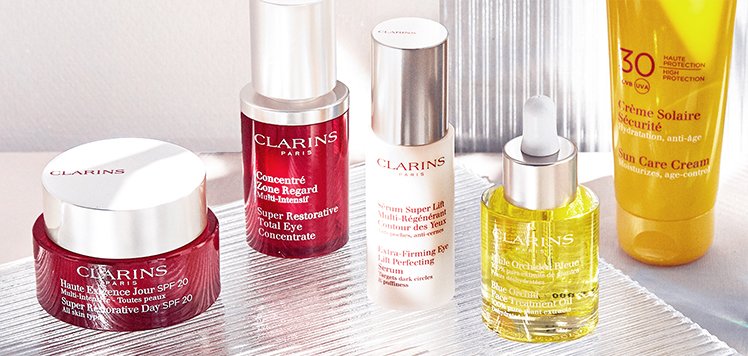 Posted by Bindra at 08:23 AM
Beauty , Online Sample Sales , Today's Sales
|
0
Clarins, the leading skincare brand in Europe, is releasing a precious holiday 2017 Advent Calendar. Joy to the girls — two dozen make-up and skincare surprises with plenty of beauty dash. One for every day leading up to holiday. Your Clarins fantasy come true.
Posted by Staff Writer at 12:00 AM
BEAUTY , News: Fashion, Beauty and Retail
|
0
With the Clarins 2017 Summer Collection, you can have the best of both worlds. With the Bronzer & Blush compact, you can achieve the flawless olive-colored tint you've been trying so hard to get. Finish your new bronzed look off with the Summer 2017 Summer Collection Eyeshadow compact, Waterproof Eye Liner, and Instant Light Lip Comfort Oil. The Clarins 2017 Summer Collection used together will leave you with a summery look that will be sure to leave people wondering how you got that glow!
Posted by Staff Writer at 02:09 AM
BEAUTY , News: Fashion, Beauty and Retail
|
0
WHAT: Clarins Beauty Workshop with Famed Astrologer Susan Miller
WHY: What's Your Beauty Destiny? Join famed astrologer Susan Miller and Clarins to find out!
Love. Work. Mascara. Susan Miller will advise you on it all, based on customized astrology readings and one-on-one beauty consultations from Clarins experts. Sign up for this amazing workshop, and see what's in your stars… and your future beauty bag!
A $125 reservation fee is required and is redeemable on Clarins products. To reserve your seat, please call 212-705-2891 The future is beautiful — join us and see!
WHEN: 4/12; Tue (1-7)
WHERE: Bloomingdale's
1000 Third Avenue
New York, NY 10022
212-705-2000
Posted by Bindra at 01:17 AM
Beauty , Events & Promotions , Today's Sales
|