Spotted: the battle against adult acne
0
Complexion-wise, my teenage years were clear sailing:  good skin care habits, practiced since an early age, meant that I breezed past the plague of acne angst that affected so many of my peers.  You can imagine my surprise, then, when I became plagued with a palette of problems well beyond my control in my 20s.  Cystic breakouts, blackheads and discoloration replaced the smooth surface I had previously enjoyed – and appeared seemingly out of nowhere.  Like many adult women, acne, for me, is a problem that exists beyond puberty.  Shifts in hormones, lifestyle and age can all play a hand in this disruption; being someone who likes to tackle the problem at the roots and tired of hiding behind the cloak of concealer, I was quick to jump into my dermatologist's chair for a diagnosis of this dilemma.
And saddened, oh TVC readers, I was, to learn that his best suggestion was to "keep my hands off my face" and "try Differin."  Differin, if you're wondering, is a retinoid-based product (similar to Retin-A) that costs $100 a month – with health insurance (really good health insurance, at that) – because it's considered a "cosmetic" treatment (as opposed to my previous acne prescription, a topical antibiotic, which ran me $15 a year).  I gave it serious consideration – until the samples the doctor himself had given me to try caused my skin to erupt into a venerable Mount Vesuvius of pimples.
Since I don't subscribe to the school of, "It's got to get worse before it gets better," and because I enjoy being a guinea pig for the sake of beauty, I dug deeper and tested a few other alternative treatment products worth sharing with The Vogue City.
iQ Derma Clear Skin Remedy System ($135 at iqderma.com)
"Ah," I thought to myself.  "Another 3-step system that promises to cure every skin woe in the book."  Having been warned of the dangers of everyone's favorite mail order 3-step system – Proactiv – that my skin would become acclimated to such products and then go haywire if I stopped, I was wary to even test the waters.  Since I had nothing to lose but a couple of zits on my chin, I figured it was worth a shot.
Step 1, the gel cleanser, left a funky film behind on my skin that required a second washing by my stand-by Origins face wash.  Step 2, a salicylic acid treatment, did wonders for a crop of pesky whiteheads along my jawline and unlike its drugstore counterparts, didn't dry out my skin.  It also helped fade some redness on my cheeks – bonus.  Step 3, a moisturizer, kept my skin moist, but not oily – but also contained more chemicals, compounds and additives than a transmission flush at Jiffy Lube.
The verdict?  I'll stick with the salicylic treatment for now, used in between nights when I apply the prescription antibiotic.  Luckily, you can buy each product individually for far less than the cost of the full monty.
The ANSR Acne Starter Kit ($185 at ansr.com)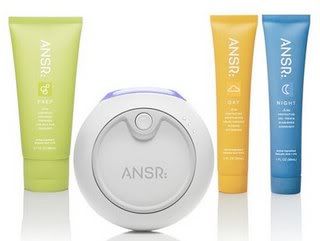 Shiver me lightbeams!  An at-home LED device, similar to the same one my dermatologist offers in his office at $150 a treatment, for under $200?  I was intrigued.  And so were my neighbors, I'm sure, when bright beams of blue (bacteria-destroying) and red (collagen-building) light shot across my window late at night.  The device is small, about the size of a deck of cards, and happily hums as you navigate the product around your face while in laser bliss.
I skipped the topical products and went straight for the LED, or light-emitting diode.  I knew I was to expect results "in about 2 months," but I saw mild changes the very next day.  Deeply embedded nodules that were in my right cheek softened; mild scarring leftover from a bad breakout six months ago appeared lighter.  Within a week, my skin was softer, smoother, and more evenly toned.  I'm a cynic when it comes to this stuff, but I was honestly shocked, happily surprised and ready to call my mother to tell her I had met the love of my life.  Unfortunately, LED-human marriages aren't legalized yet, so I'll stick to using the ANSR once or twice a week for now.
The Clear Skin Prescription by Dr. Nicholas Perricone ($15.95 at Borders)
The "prescription" behind this treatment – which is a book – is really just common sense.  Eat well; drink a ton of water; incorporate yoga and exercise into your routine; reduce stress and get some sleep – I feel like my mother could have written this book in her sleep.  He (Dr. Perricone) does hit the nail on the head by presenting the idea of an anti-inflammatory diet, rich in omegas, antioxidants and other good-for-you vitamins and minerals.  Basically, a lot of salmon, berries and greens, and not so much McDonald's.  My grocery bill jumped a bit – I don't usually buy salmon or strawberries on a weekly basis – but that, combined with the cost of the book, cost less than the other two treatments I tried.  Plus, these are good habits that one can incorporate into her lifestyle for as long as she likes – no refilling or recharging required.
Above all, I learned that there is no magic wand or universal product that works for every single person.  Our skin, just like our personalities, is unique, and should be treated as such.  Treat it well, and you can rest assure that the only diva accessory you have to worry about are some killer stilettos – not a crop of acne on your forehead.
Daily Sales Email, or Subscribed to our RSS Feed? Don't miss a Sale!
Posted by Staff Writer at 12:00 AM
bargain news , BEAUTY |