Sheer Gear
Sheer dresses hit the redcarpet running, but can you sport them?
1
Oh Megan Fox, how we loathe your flawlessness. As if we weren't jealous enough, Megan Fox struts down the red carpet wearing a little black that fades to sheer at the top. It looked amazing, but can we copy? Strapless or skin-showing dresses often forgive not so smooth arms, a few lumps and armpit bulge. Sheer dresses, however aim to show what is usually covered by fabric, but rather than having some space to move around and breathe, the sheer dresses cut confound your skin, cutting it off in ways that may not flatter.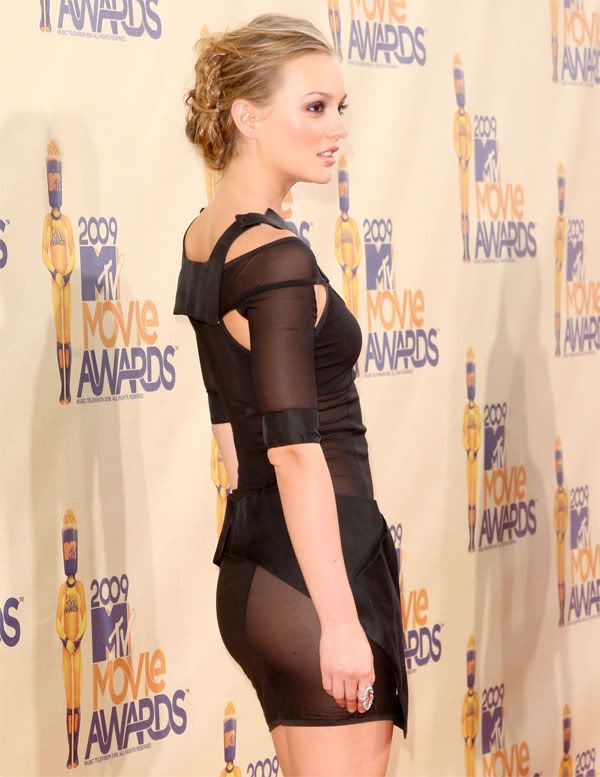 Translation: avoid dresses and shirts with sheer areas that you wouldn't normally show. So if you wouldn't normally show your belly, then a dress with a sheer belly – albeit, I haven't seen one to date – is a no no. Megan Fox, may not have a stitch of her she'd be afraid to bear, but using her dress as an example, if you wouldn't wear a strapless dress as low as this one, then don't do the sheer. The sheer stripes would be hell for tummy rolls. Choose wisely.  Feeling brave, Leighton Meester covered and uncovered her favorite parts in the (right) Emilio de la Morena sheer paneled number she sported down the MTV Movie Awards red carpet. A non-celeb feeling frisky enough to expose their right rear? We can't fathom, but hey, if you got it, flaunt it.
Then there are some celebs we just can't measure up to, in style, in attitude, in talent. In short, some sheer is best left to the professionals.
Emma Dinzebach
Daily Sales Email, or Subscribed to our RSS Feed? Don't miss a Sale!
Posted by Emma Dinzebach at 09:15 AM
APPAREL , bargain news , STYLE/BEAUTY , TRENDS |