Perfect Pups Don't Come Easy
0
As most of you probably know, I had an adorable beagle growing up,
Bailey, who now lives with my parents – and they live in Japan, so I don't get to see her very often. So, after years of waiting, and planning to be in the right place geographically, financially, career-wise, etc., I brought home two of my own precious beagles this weekend. Barkley and Bianca are about seven weeks old and completely full of energy! (In fact, there making it very difficult for me to write this!) But in the short time I've had them, I've already found there are a few things you shouldn't do without when raising puppies.
1. Puppy pee pads. Since we live in an apartment building and since the pups are just too young, at this point teaching them to go to the bathroom outside is just not an option. Fortunately puppy pads are a great solution. Sure, it's not ideal, but after only a few days B&B have learned to use the pads fairly consistently. I'm hopeful that this will help when, in a few weeks, we will be taking them outside.
2. Kongs.  Not only is this toy frikkin adorable because it is SO SMALL, it provides good mental stimulation and, of course, is an excellent chew toy. Our trainer did caution against feeding them anything but their kibble and "natural treats" (like veggies) at this point, so I didn't use the free Kong treats the toy comes with.
3. Puzzle toys. Along the same lines, puzzle toys are great for feeding your pup. They should be learning new things, and be stimulated and challenged as much as possible, and mealtime is a great time to do this. Feed them with their kibble in a puzzle toy and not only will they get some mental exercise, you'll get a few minutes of free time.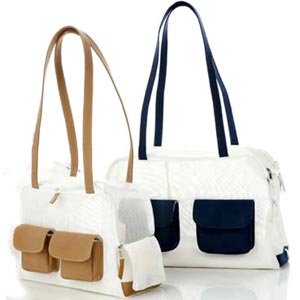 4. Dog carriers. Another  important aspect of puppyhood is becoming properly socialized. As I mentioned, Barkley and Bianca are just too young to go for walks or be taken to parks, but they need to get out, become desensitized to the city noises and meet people at a young age. Putting them in a tote bag has been the solution to this problem. They can see the world, but they are safe and sound.
~happy pampering! (and puppy raising!)
*alexis
Daily Sales Email, or Subscribed to our RSS Feed? Don't miss a Sale!
Posted by Alexis at 09:56 AM
DOGGIE , STYLE/BEAUTY |