Macbar
Not your mama's mac and cheese.
1
Remember when I said the mac and cheese at Delicatessen hurt my stomach. Well, they must have read that and laughed in my pretty face because the creative masterminds behind Cafeteria and it's Soho sister have launched their newest ode to America's cheesiest staple – Macbar. Between Delicatessen and McNally Jackson on Prince street you will find a glowing orange light. If you're distracted trying to catch a glimpse of Chuck Bass, you could very well miss it. It's teeny tiny.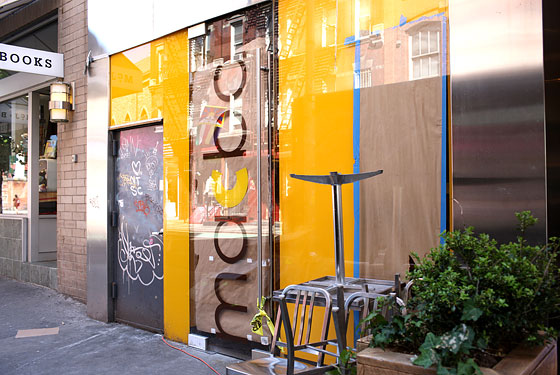 Macbar sort of reminds me of the Rice to Riches of mac and cheese, albeit smaller and more futuristic. There are three, maybe four two top tables on the left, a standing bar or trash section on the right and you order due south. A flat screen menu highlights the day's mac and cheeses, and your order shoots out on the right. They have duck confit mac and cheese, lobster mac and cheese, chicken mac and cheese with chipotle or cayenne pepper or something spicy that has since slipped my mind. There is a pizza-esque mac and cheese with basil and tomato sauce. Pick that one. That one is good.
Then you can add some ranch (gross) or bacon and breadcrumb (gross again) or pepper (okay, we'll take it) and head out. Yeah, you have to head out because it's teeny in there. So why love Macbar? Mainly because it's open late, so after you have too many cocktails you can stuff your face with noodles rather than tacos. When you have on six inch heels La Esquina seems very far away. However, no guarantees you won't wake up with a belly ache.
Macbar 54 Prince Street between Lafayette and Spring; 212-226-8877
Emma Dinzebach
Daily Sales Email, or Subscribed to our RSS Feed? Don't miss a Sale!
Posted by Emma Dinzebach at 12:00 AM
bargain news , Restaurants |