Linda Farrow Sunglass Online Sample Sale @ Gilt
0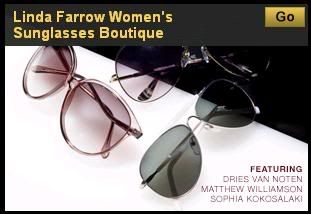 WHAT: Linda Farrow Sunglass Online Sample Sale @ Gilt
WHY: Featuring brands like Dries Van Noten, Matthew Williamson & Sophia Kokosalaki at up to 65% off!
WHEN: 3/26 & 3/29 (12noon)
WHERE: Gilt.com (this is an invitation only community, if you would like to check out the sale online please email [email protected] & we will send you an invitation)
Daily Sales Email, or Subscribed to our RSS Feed? Don't miss a Sale!
Posted by at 02:30 PM
bargain news , Online Sample Sales , Today's Sales |