Learn How To TTouch
0
No, it's not a typo – TTouch is a method of dog training gaining popularity – but it's been in existence for over 30 years. It actually stands for the Tellington Method of Training, Rehabilitation and Wellness and is designed to meet the needs of pet parents, caretakers and people working with animals. The methods are tailored to each animal's individual needs and are gentle,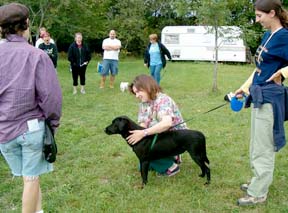 positive reinforcements which respect your pup! Fear-free training – I'm all for that!
And – this weekend you can learn some of the basics. Whether you have a seasoned companion or need some pointers for a new pooch in your life, TTouch can help. The method incorporates a series of soothing and rejuvenating touches, body wraps, balance techniques and groundwork and works because it allows them to be more relaxed, adaptable and successful.
While not necessarily a catch-all for every type of problem you might be having with your canine pal, TTouch does help deal with challenges like barking, biting, chewing, digging, jumping up, leash-pulling, fear-based issues, grooming, anxiety, shyness, performance issues, lack of focus, noise sensitivity, aging/arthritis, hip/mobility issues, and more! Taught by Mindful Tails' Guild Certified TTouch Practitioners/Instructors, the proceeds benefit the special-needs animals of Tavi & Friends. Registration is $50 and can be done at their site.
~happy pampering!
*alexis
Daily Sales Email, or Subscribed to our RSS Feed? Don't miss a Sale!
Posted by Alexis at 09:04 AM
DOGGIE , STYLE/BEAUTY |