Jimmy Choo Retail Sale
0
June 17-July 20, Monday-Saturday 10AM-6PM (Thursday 10AM-7PM), Sun 12PM-5PM, Location:716 Madison Avenue (63-64 Streets) T: 212 759 7078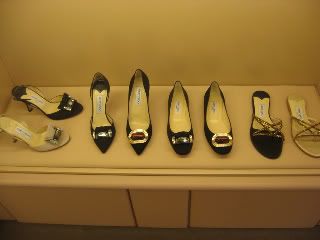 On my way to work this morning, with some time to kill, I had decided to try my luck and hit up a retail sale. Being in serious need of new shoes, as I am, I was happy to find that luxury shoe designer, Jimmy Choo, is currently holding its seasonal retail shoe sale. As word has it, the Jimmy Choo store, located at 716 Madison Avenue, still has 6 days remaining of their 30% seasonal markdown.
Though it has been nearly a month since the start of the sale, I had figured it couldn't hurt to pay a visit. Heading over to the Jimmy Choo retail sale, I had minimal expectations of finding anything worthy of splurging on. Boy was I wrong! If you are looking for a wide selection of Jimmy Choo shoes at an affordable price, I am both shocked and pleased to tell shoe lovers of New York that attending this retail sale is a must!(Pictured to the left are a few of the sandles, pumps, and flats, all of which are priced under $300.00 after the markdown.)

The small, two story Jimmy Choo retail store was set up with their elegant, new collection on the first floor, followed by their marked down merchandise on the second floor. Knowing Jimmy Choo for his far from cheap designerwear, I did not dare to stop and look at his newly designed fashions on the first level. Heading strait for the second level of the store, I couldn't possibly believe that the large selection of merchandise on display were all a part of the 30% markdown. When I had approached the salesperson to ask if this were true, I had found out that I had been misled! The entire second floor was not marked down 30%, but as of July 4th, an entire 50% is now being taken off what remains on the entire 2nd floor! (Pictured to the left: Black/Gold Stilettos, $495.00 – originally almost $1,000.00)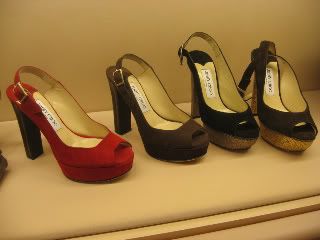 A large selection of Jimmy Choo elegant pumps, flats, sandals, stilettos, boots, and even handbags are included in this seasonal markdown! The prices of the shoes ranged from $200.00-$600.00 (originally $400.00-$1,200.00). The prices still remain far from cheap, but needless to say, a pair of Jimmy Choo shoes for under $250.00 is a great bargain! (Pictured above: Peep toe, platform pumps, coming in a variety of materials/colors. Mark down price: ~$350.00) The handbags, depending on the size, range from $375.00-$1,000.00, after a 50% markdown. (Pictured below: Two of the larger Jimmy Choo totes marked half off.)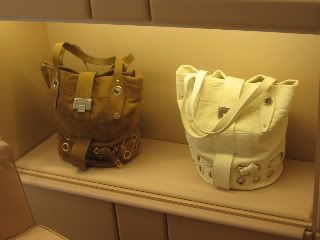 As far as the availability of shoe sizes go, you must take into consideration that the sale has been going on for about a month now. The merchandise that remains in the last six days of the Jimmy Choo sale, is comprised of a selection of about 50 pairs of each shoe size. Whether or not your style of choice is in that selection, I'm sad to say, is a tossup. Though I did not leave the sale having made any purchases, I have full intensions of stopping by later today. I had fell in love with a pair of open toed heels, ofcorse one of the most expensive pairs in the on sale merchandise. (Pictured above: Priced at 50% off of $1175.00.) My advice to you is, if your shoe closet is in need of any additions, get over to the Jimmy Choo 50% off sale on Madison, and fast!
-Randi
Daily Sales Email, or Subscribed to our RSS Feed? Don't miss a Sale!
Posted by randims87 at 04:29 PM
Sample Sale Reviews |