Holiday Hound Travel Tips
0
As the winter holidays quickly approach, pet owners far and wide are putting the final touches on their travel plans.  For all the furry family members there are often additional arrangements that need to be made as well.  We know this can often send your head spinning, so we have taken the liberty of putting together some fabulous travel tips to make the process at lot less stressful.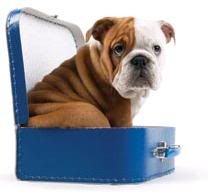 If you can't take your dog with you, we know how important it is to leave them in the care of a reputable pet care professional that will give your pup the love and care he deserves.  To avoid getting stuck with a less than desirable kennel, make sure you book their stay ASAP.  The winter holidays are always the busiest times, and kennels tend to fill spots quickly.  When booking their stay, be aware that most locations will tack on an extra fee for the holidays.
Some great local spots we recommend are:
• Happy Paws Pet Resort who has adorable themed rooms and suites that feature flat screen TV's and DVD Players. http://www.happypawsinc.com/
• The Paw Stop will pamper your pooch with their highly qualified self-proclaimed "pet parents" in a fun and safe environment. http://www.thepawstop.com/
For those of you, who believe it wouldn't be the holidays without your best friend by your side, remember to make airline accommodations in advance for them.
If your doggie is too big to fit under the seat, several airlines allow them to be precious cargo under the plane.  There is a fee for this that varies from $250 each way up to $550 each way for international travel.  Be sure to get a health certificate that is issued by your vet within 10 days of travel.
 If your dog is small, most airlines allow 1 to 4 dogs per flight in the passenger cabin and will sit directly under the seat in front of you.  Fees for this option have recently gone up and range from $69 (AirTran is still the best deal!) to $150 each way.
http://www.airfarewatchdog.com/ has an easy to read chart that breaks down all the different options and fees available.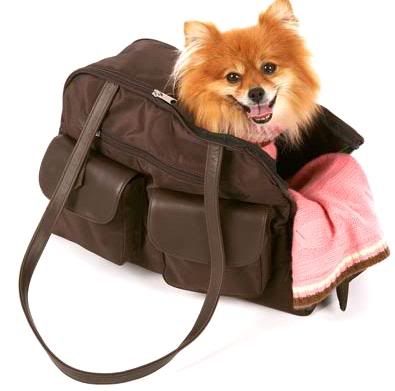 ** Brown Nylon Cargo Carrier can be found at http://www.caninestyles.com/
Happy Travels!
-Lindesy
Daily Sales Email, or Subscribed to our RSS Feed? Don't miss a Sale!
Posted by ladidah146 at 06:00 AM
bargain news , DOGGIE , STYLE/BEAUTY |