Holiday Aftermath; Quick Beauty Fixes
0
Thanksgiving Weekend; non-stop eating, lots of partying, way too much family, and little or no relax time. Ready to go back to work Monday morning? Probably not. But your face doesn't have to show it. You want to look well rested and as if you spent the weekend lounging poolside in a gorgeous tropical destination. Since that's not happening, there are a few beauty products that will enhance, conceal, and brighten your entire face!
SKIN:Reduce fine lines and wrinkles and give your skin a silky smooth feeling.
Benefit Dr. Feelgood Face Balm from Sephora
FACE:Moisturize & Tint your skin! Tinted moisturizer prevents your face from becoming cake-y looking. It's light and you can re-apply throughout the day, giving you a glowy fresh look!
Laura Mercier Illuminating Tinted Moisturizer from Space NK
COLOR: It's ok to stain.. your face that is! Use cheek stain to give you face a natural flush.
Tarte Cheek Stain from Sephora
EYES: Erase bags and dark circles with an eye brightening concealor.
Smashbox Photo-op Under Eye Brightener from Sephora
SMILE: Brighten your teeth and your breath!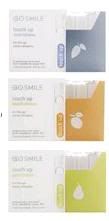 GO Smile Touch-Up Mini Mint-licious from Space NK
Daily Sales Email, or Subscribed to our RSS Feed? Don't miss a Sale!
Posted by at 09:47 AM
BEAUTY , STYLE/BEAUTY |