Hello, yellow!
0
As I cruised downtown in search of a new bathroom rug, I stopped short when my eye caught hold of a Talbot's window display, the mannequin smartly dressed in a white poplin blouse and grey microfiber pants with a lemony yellow patent belt cinched at the waist.  A printed chartreuse jacket was draped over one arm; a matching patent demi bag graced the opposite wrist.  While the mannequin was barefoot, I imagine that, should she be in charge of picking her footwear, would have gone with – you guessed it – matching patent shoes:  perhaps flats, or a delicate open-toed slingback pump.  I got the message loud and clear:  yellow is the new black.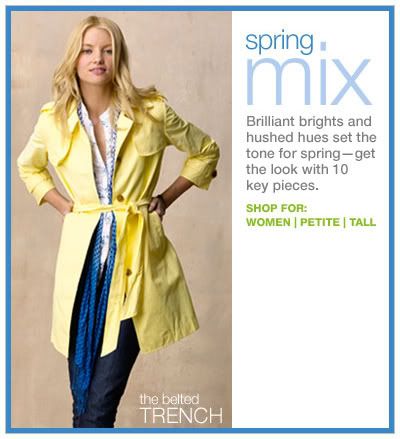 This display represents a taste of what's to come as we East Coasters battle our way through the remnants of a very cold winter, downtrodden with bulky clothing and the inevitable 5 or 10 pounds gained from camping out on our cozy couches to shield ourselves against the elements (that's my excuse, at least).  Likewise, retailers are keen to our very cold economy and are more than happy to inject a dose of wishful thinking into their spring lines.  Yellow is radiant, cheery and hopeful, and can lift even the most Seasonal Affective Disorder-ed fashionista onto higher ground.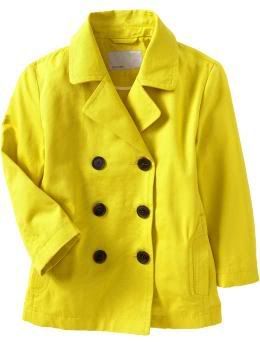 Prices at Talbot's are on the moderately high side and styles tend to be a bit conservative, though their pieces will last for several seasons with proper care.  The Gap, after failing miserably on its campaign to couture itself, has come to its senses and gone back to the basics.  I found this buttery trench on their site this evening for $78.  I was also pleasantly surprised to see that, in addition to offering a more streamlined navigation through all four of Gap Inc's groups (The Gap, Old Navy, Banana Republic and Piper Lime), Old Navy offered a bold, mustard colored canvas peacoat for around $40.

Though yellow is often passed off as a tricky color that flatters few, it's all about working with your skin tone – those with cool undertones look best in paler shades of sun; warmer toned ladies will delight in deeper, golden hues – and most of all, having fun with what's sure to add a ray of light to Spring 2009. 
 –Karyn Polewaczyk
Daily Sales Email, or Subscribed to our RSS Feed? Don't miss a Sale!
Posted by karynpol at 06:00 AM
APPAREL , Bargain Hunting , bargain news , STYLE/BEAUTY , TRENDS |