Heavy Metal.
0

Attention all rockstars, or those who think they are but are secretly scared of a lifestyle fueled by sex, drugs and easy women:  your time to shine has arrived!  After a season of muted tones and subtlety, rock and roll design – with metal, metal, everywhere – reigns supreme once again. Perhaps it's the designers' hidden innuendos that we've got to toughen up a bit.  Or, perhaps we need to strike a balance between the featherweight trends that floated their way down the runways at Fashion Week with something more solid.  What better way to say it than with a statement necklace?  With statement necklaces, actions speak louder than words.  A statement necklace stands strong enough alone – nix the chandelier earrings in favor of simple studs, and lose the bangles around your wrists in favor of going bare – and brings even a basic solid tank to life.  While engaged in my favorite Saturday morning sport – window shopping online, within the comfort of my apartment and coffee-stained pajamas – I came across several worth sharing with The Vogue City readers.
I found the Baroque pearl necklace at Neiman Marcus for just under $14,000.  This one says "I live in a rent-controlled walk up on the Upper East Side and haven't paid my student loans since kindergarten."  If pearls are a bit too "soft" for your style, try the Zephyr pendant necklace from H. Stern for just over $6,000.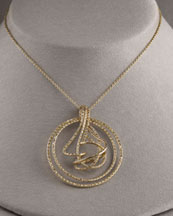 Perfect for lunch at Pastis with your sugar daddy du Jour and his divorce lawyer!
For us realistic recessionistas, Maison Martin Margiela has a great line of bold-yet-reasonable pieces available at eluxury.com.  Priced around $400 or less, these intricate necklaces won't break the bank – or wedding vows.  
My favorite place to score discounted jewelry trends, H&M, didn't feature much on its site aside from waif-like teenage models in skinny jeans and patchwork vests, giving this bargain babe reason to change out of her frumpy weekend wear and hit the ground running to the nearest location to scour the racks herself.  I wonder if Mick Jagger can give me a lift?    -Karyn Polewaczyk
Daily Sales Email, or Subscribed to our RSS Feed? Don't miss a Sale!
Posted by karynpol at 06:00 AM
bargain news , JEWELRY , STYLE/BEAUTY , TRENDS |