Generra Sample and Stock Sale
0
June 19-27, M-F 9:30-7 at 275 West 39th Street, 5 Floor (7-8 Avenues), Tel. 212-768-2868.
When I had awoke this morning, I had come to find that a challenge was presented before me, with a great reward. This sounded to me like an ideal excuse to head down to the Fashion District to find great bargains at sample sales from New York top designers. My roommate having had the day off as well, was more than pleased to accompany me on this mission to find ourselves some fashion deals.
As it had turned out, the building at which my roommate works, 275 West 39th Street, was housing a few sample sales. Ironically, one of which had happened to be the sale I had set out to pay a visit to. The Asmar Group showroom, currently holding it's annual spring/summer stock and sample sale, had opened their doors this past week to mark down men's and women's spring collections from Generra between 50 to 60 percent off.(pictured below.)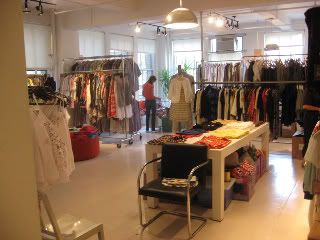 The somewhat hidden away showroom on the 5th floor of this West Midtown building, which was seemingly under construction, did not have many customers flocking to it. The small showroom was organized with the
women's and children's apparel in the front, followed by the men's apparel and the accessories towards the back. Generra Dresses were down to $120 (originally $245), and a men's cotton-blend utility blazer was $145 (originally $295). Generra's easygoing basics and work-friendly pieces were 50% off. For the most part the suggested retail prices of the Generra merchandise ranged from $120-$250, the sale then took off 50% from those prices. A great deal, but still nonetheless somewhat pricey.
I was disappointed with the selection of Generra women's apparel which remained at the sale. Sadly, there was only one rack (pictured to the left.) to rummage through. Either all the good stuff had already been snagged, or Generra is just not my style. I could not find one item on that rack which would have been worth even it's 50% off mark down!
Men, on the other hand, had a much larger selection of Generra, consisting of collard shirts, tees, and trousers.(pictured below.) I'm not a male, but to be honest fellas, I found most of the apparel to be some what plain and boring, for the prices that is.
The sample sale also carried other designer's merchandise, which after being disappointed by the Generra selection, I decided to check out. The other clothing lines came from Covet and MVP Vintage collections and the massive
amount of belts were designed by Brave leather Beltworks. (pictured to the right.)

The other designer merchandise which I had picked up ranged from $50-$85, but in my opinion were elegant pieces, and well worth it. The showroom had no dressing room, so my roommate and I had to try on
our selections in the back office area.
I fellin love with an adorable dress designed by Covet, which was on sale for only 50 bucks! (pictured to the left.) Had they taken American Express, I would have been sold. Sadly, only Visa and MasterCard were accepted, guess it wasn't meant to be. So, after about an hour of exploring through the Asmar Group Showroom, my roommate and I had left the sale empty handed.
The sample sale is still going on for one more day. If you happen to be in the area, and own a Visa/MasterCard, or just have some cash on you, check it out.
I know there is definitely a must have Covet dress still up for grabs!
-Randi
Daily Sales Email, or Subscribed to our RSS Feed? Don't miss a Sale!
Posted by randims87 at 06:00 AM
Sample Sale Reviews |