Furla Samples Sale
0
First Ever Public Sample Sale 12/10-12/13 10am-6:30pm
552 7th Avenue 5th Floor
The Furla sample sale was something I was really looking forward too! I was telling Mirela that we would definitely find something there. Well, we arrive in a narrow building and took a claustrophobic elevator to the Furla sale. Upon entrance to the sale, they demanded we leave our coats and bags. Ok, I know every sale does this, but is it necessary to leave our handbags. Mirela was walking around with her check book and wallet, which if left on a table for one mere second could have disappeared even quicker. Why can't we carry our handbags too! Are they not aware that they are our "security blankets" as Mirela calls it? Mirela was slightly pissed since it's not like if we walked around with our handbags we could secretly stuff another handbag in our own handbag, and it's kind of insulting since we would be paying around $400 for the handbags.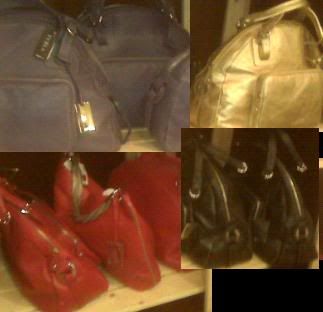 Anyway, once we passed Sample Sale Customs, we entered a very neatly organized sample sale. I loved that the prices were color coordinated. Items marked yellow were $195, blue was $275, and red was $375. Belts, which Mirela and I rummaged through for at least a good 30 minutes, were at $45, and shoes which of course were NOT in my size (8) were at $100. The shoes were gorgeous, and even though they were a $100, they were worth it!
Although we were agitated by the coat & bag check situation, we LOVED the fact that the sale was SOO EFFIN ORGANIZED compared to some other sales. It was clean and laid out very nicely and the pricing was very easy to understand.
The bags were beautiful in an array of colors combination and solid shades, but I feel that the Furla Outlet offered better pricing on the handbags.
This is a nice sale to go too and run for the shoes if you happen to be a size 37 or 40!!
Daily Sales Email, or Subscribed to our RSS Feed? Don't miss a Sale!
Posted by at 05:58 PM
bargain news , Sample Sale Reviews |