Deddie Shuchat Online Sample Sale @ TheTopSecret
2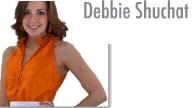 WHAT: Debbie Shuchat Online Sample Sale @ TheTopSecret
WHY: Debbie Shuchat up to 60% off!
WHEN: 5/05-5/06
WHERE: TheTopSecret
*To sign up & access the sales, go to:
http://www.thetopsecret.com/TheVogueCity.
coupon code at checkout TheVogueCity for $15 off purchase

Check out today's New York sample sales
Daily Sales Email, or Subscribed to our RSS Feed? Don't miss a Sale!
Posted by jordan at 02:24 PM
bargain news , Online Sample Sales , Today's Sales |