Cookout confidential: clothes that will take you from the beach to the backyard barbeque this Memorial Day
0

  Is there anything more frustrating than the high-maintenance hijinks that wiggle their way into your weekend plans?  You go to the beach for a few hours – but wait – there's a party at your best friend's house later.  And – oh! – you might be heading out for a pitcher or two of sangria downtown later.  Do you really have time to head back to your apartment, strip down and switch your outfit between activities, and head out once again, frustrated and frazzled that you're not sipping a concoction of red wine and fruit? 
Take your sunscreen, but leave your frustration at home.  With a bit of creativity and a few well-placed accessories, you can make your clothes do the work for you while you sit back and soak up the sun. 
A giant, oversized scarf
I know, I know – we just covered a thousand and one ways to wear a scarf – but I promise this goes beyond the norm.  H&M carries thin, cotton scarves year-round that are the size of bath towels and go for $12 and under.  Wrap one around your waist as a sarong at the beach; later, fold it to the length that spans your chest to the top of your hips (this also doubles the coverage and keeps things PG) and – voila – a tube top is born.  I recommend tightly knotting anything that's remotely apt to loosen in the back; you could also tuft up the sides and wear it knotted at the hip.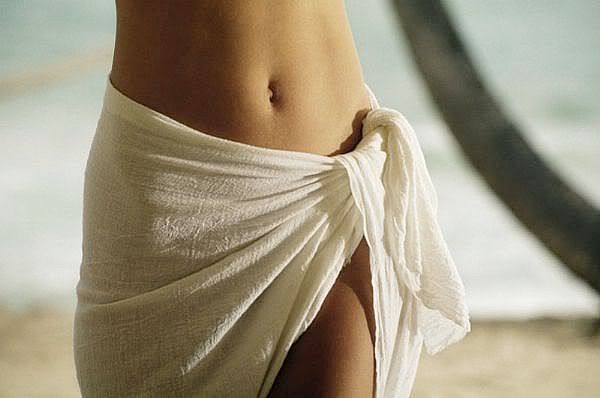 A tunic
If the thought of a scarf around your chest has you running to the nearest lifeguard stand, try a tunic on for size.  It wears well over a bikini on the beach – and with the simple toss of a leather belt, instantly transforms into a dress to wear while cruising the boardwalk or a rooftop bar. 
A cabana boy
Perfect for applying sunscreen in hard to reach places by day, and standing in as your "new boyfriend" as your old one glares with jealousy over a plate of chicken wings at that backyard barbeque.  Most often found in tropical locales and the snack aisle at Duane Reade. 
Low-key looks for a multifaceted weekend:  because being high-maintenance, after all, is so L.A.
–Karyn Polewaczyk

Daily Sales Email, or Subscribed to our RSS Feed? Don't miss a Sale!
Posted by karynpol at 12:00 AM
APPAREL , bargain news |