J Sisters
Best for: Brazilians
Website:http://jsisters.com
Address:35 West 57th Street 3rd Floor 
Phone:212.750.2485
Hours: Call for appointment!
Bread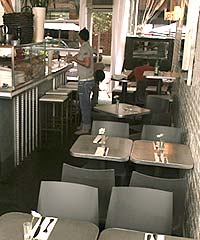 Great for: Bread
Website: www.menupages.com/restaurants/bread/
Address: 20 Spring Street, New York, NY 10012
Telephone: 212-334-1015
Hours:
Sun-Wed 10:30am-12am
Thu-Sat 10:30am-1am
Dishes Like:
 
Read Our Review!
Rouge Tomate
Great for:Sweet Onion Flatbread
Website: http://www.rougetomate.com/
Address: 10 East 60th St, between Madison and Fifth 
Telephone: 646-237-8977
Hours:
Open daily until 11 p.m
Dishes Like:
Spanish Mackerel and Sweet Onion Flatbread, Scallops
Piadina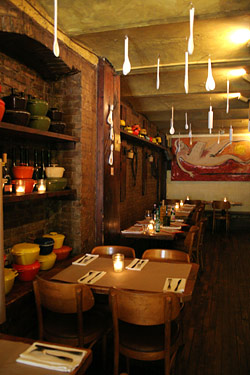 Great for:Crostini Misti
Website: www.piadinanyc.com
Address: 57 W 10th Street – Between 5th & 6th Avenue
Telephone: 212-460-8017
Hours:
Mon: 5:30pm – 11:30pm
Tue: 5:30pm – 11:30pm
Wed: 5:30pm – 11:30pm
Thu: 5:30pm – 11:30pm
Fri: 5:30pm – 11:30pm
Sat: 5:30pm – 11:30pm
Sun: Closed
Dishes Like:
Crostini Misti Mix toasted bread with tomato & oregano, gorgonzola, basil pesto ($7)
Insalata Mista Con Pomodorini Mix salad with cherry tomato ($6.50)
 
Read Our Review!