Where to shop for your doggies in New York
0
Von
3 Bleecker Street
New York, NY 10012
Telephone: 212 473 3039
A wine for you, a milk bone for your furry friend =)

 
Posted by at 03:35 PM
bargain news , Where to shop for your doggies in New York |
0
Fetch Bar & Grill
1649 Third Avenue (btw 92nd & 93rd)
Telephone: 212 289 2700
Food, booze and man's best friend!
 
Posted by at 03:33 PM
bargain news , Where to shop for your doggies in New York |
1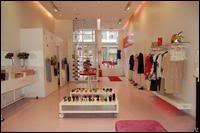 96 Greene Street
New York, NY 10012
Phone: (212) 941-9656
Great For: Hard to find labels. Dog friendly and even has great accessories for your furry friend.
Brands Like: Lanvin, Azzedine Alaia, and Stella McCartney to Rick Owens, Nina Ricci and Alexander Wang, Repetto and Balenciaga.
New York Shopping
Posted by at 01:21 PM
Apparel , Shoes and Accessories , SPECIALTY STORES AND BOUTIQUES , Where to shop for your doggies in New York |