I cannot believe more people do not know about Mina NYC! Don't think twice, go. Hundreds of beautiful designer clothes (Chloe, Alberta Ferretti) from this and the past few seasons all at up to 90% off retail.   Separates are mostly $200 or less and at about 70% off retail.  Coats, bags, and dresses are mostly 70-90% off, but still run around $400. According to their fashionable-but not pretentious- helpful, courteous staff the clothing is all new, so even though it is an offshoot of the Fashion Library, no worries mom! In addition, they hold "extra 20% off" everything in the store sales at least one weekend a month.  Save on savings!?! That is how we like to shop.
Have out of town guests with a few hundred dollars to spend on a quality piece? Why take them to 5th Avenue? Bring them to Mina NYC located by Cooper Union/St. Marks in the East Village where they will get to participate in a real New York shopping experience in this organized by color and category, stylish, fun, fashion forward haven with available/no-wait dressing rooms! Then take them to Soho, a hop away, where they will realize how much they saved and think you are a true New Yorker, so
brilliant and well informed.
I sound like a commercial?  I know.  That is what this place needs!  I cannot believe more people don't come here!  Beautiful clothing for the savvy bargain shopper, the one who knows quality, and the value of money. You are too busy to come by? No problem! I cannot stop sounding like a commercial.  It does get better, there is also a website that will tell you about the sourcing of the clothing, and has a some (only 40 or so) items from the store available on-line, www.minanyc.com.   I cannot wait for the next time I want to purchase a quality piece (my winter coat?).  This will be the place I look forward to going to.  It should be yours too.  Just try not to take anything embroidered please, or sequined or feathered…ok, ok, go ahead, I cannot lay claim on everything, even though I did tell you about it.
Long live the New York bargains!
By:Bargain Jenny
Note: We were not paid a dime to write this article.
Strolling down East 20th I ducked into Trixie & Peanut, New York's decade-old frontrunner in luxury pup apparel. While browsing the puppy apparel in the
flagship store, and a distinct, embarrassing memory flashed in my mind. I first happened upon Trixie & Peanut on a nice weekend afternoon several years ago while strolling around the neighborhood with my then boyfriend and new shiba inu pup, Mia. In the mood to splurge, I mulled over the collars, slipping onto my wrist those in the running. After much deliberating and debating, my boyfriend and pup were becoming impatient, so we agreed to come back after lunch.
Around the corner we picked up sandwiches and went to eat them in Madison Square Park. As I unwrapped my sandwich and held it up to take the first bite, I noticed a pink and green camouflage ring around my arm, now dangling towards my shoulder. "Oh my god!" I gasped. "What?" my boyfriend asked, curious at my unexpected surprise.
"I stole a collar," I said holding up my hand to reveal the collar still looped around my arm.
"Yes you did," he concurred, laughing.
"What am I going to do?" I asked, embarrassed by the thought of going back to the high-end dog boutique and confessing my accidental sin.
"We'll decide after we eat. I mean, maybe Mia was meant to have a free collar."
I picked at my sandwich and dangled the collar between my fingers, admiring it's glimmer in the sun. I put it against Mia's orange and white neck. "Maybe it's a sign that I was supposed to buy this one," I suggested to my boyfriend who shrugged in response, indicating he had no intention of returning the collar. Mia, seeing mommy twirling the collar like a glittery baton, began to reach her nose for it letting out a small wimper. "Oh, she likes it!" I said naively. I unfastened the collar and put it around her neck. That, my friends, was the kiss of death.
Trixie & Peanut's overpriced dog clothes, collars and beds served as the perfect excuse, according to said boyfriend, to keep the collar. This medium-sized dog collar was 47 bones. Um, pun intended. But it was my careless indecisiveness that caused accidental robbery. What to do? I mulled over it the moral dilemma, which seemed liked a no brainer to my man who finally convinced me that we would spend plenty of money at Trixie & Peanut in Mia's life and the least they could do was give us a free collar that some ten-year-old in Taiwan probably sewed. Looking back, I can't believe my choice. I should have returned it, but I was three or four years more immature than I am now and to ashamed to admit my mistake to the chic staff at T&P. Eventually, I donated the collar to Animal Haven, hoping my heaps of donations would in some way counterbalance my bad karma.

So this week, as I browsed the collar rack, I reminded myself that I owed them a sale and searched for something to purchase. To my surprise, all of the collars I searched were around $20. What happened to the expensive collars? I thought. Turns out I was in the sale section (hence the "sale" sign, duh). But I can assure you that on my innagural trip to Trixie & Peanut there was no such section. (Thanks recession!) In fact, Trixie & Peanut has deals on more than just collars. They have dog beds, pleather and space-style silver raincoats, Hawaiian print leaves, argyle sweaters and more on sale now. So for a little more than the price of the collar I stole (I added to account for inflation), I purchased three items instead of one. You can visit your website www.trixieandpeanut.com to see for yourself, but my recommendation, visit the store. Just make sure you check yourself before you exit.
Trixie & Peanut  23 East 20th between Broadway and Park  212.358.0881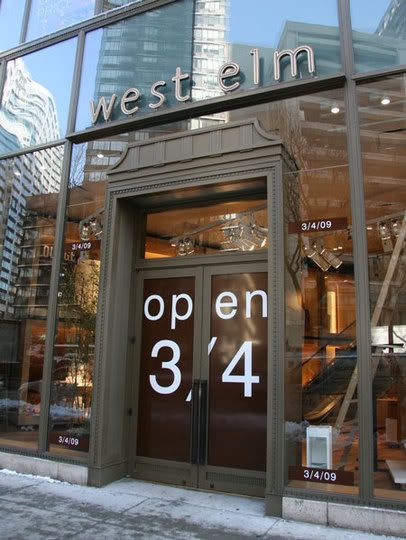 Though January turned out to be a bad month for the home furnishings industry (pink slips at Williams-Sonoma, Chapter 11 at Wedgwood, and who could forget, RIP Domino), spring seems poised to breath life into interior design with a new string of décor shop openings littered throughout the city. First up, the eco-friendly Green Depot had its Bowery debut last month and was closely followed by Droog Design which made SoHo the site of its first American outpost. Now barely a week later, the Upper West Side gets its share of the interior design pie with the debut of West Elm's newest uptown location. No more treks down to Chelsea after today when the 24,000 square foot store opens to the public. Mid-priced furniture, tableware, linens, and lighting will pepper the second-story space along with installations by famed event designer David Stark. Last night's private auction event has guests bidding on pieces sculpted to mimic topiaries, potted cactus, and even alarm clocks using only old West Elm catalogs and packing material. Even though the goods were auctioned off to benefit the Cooper-Hewitt Museum, the designs will still call the store home through the month of March so take a trip uptown while the installations remain.
1870 Broadway @ 62nd Street
New York, NY 10023
212.247.8077
Photo credit: Apartment Therapy
IN GOD WE TRUST
153 Ludlow St
New York, NY 10002
Phone: (212) 228-1055
Great For: Local Designer Fashions; all jewelery comes from Brooklyn!
Designers Like: The house brand as well as Hyden Yoo, Shara Porter and others.