Archetype Showroom Samples Sale
0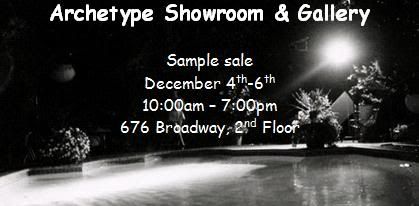 There isn't a day in New York that passes without an exceptional Sample sale!
So, curious about what Archetype had to offer, Cecile ventured out in the cold to visit this sample sale at Archetype's showroom. Cecile is French, the French in general don't get too excited about some things. When Cecile came back from the Archetype Showroom sale with a shopping bag, we knew the sale must have been good. Cecile was really impressed by the selection of quality items that were there. They didn't have basics, but if you like variety in your wardrobe you can pick up really great pieces at Archetype to complement your wradrobe or give it a twist. Cecile purchased the most awesome wool jumper dress with a velvet bow accent. Cecile wishes she could have purchased more, but then walking back to the office from the sample in the cold wasn't an option. Overall, this was one of Cecile's favorites this season! The prices were very reasonable for the quality of the goods and the whole sale was truley a bargain!
Check out Cecile's notes in French below:
Vous ne pouvez pas laisser passer ça ! Plus que deux jours et Dimanche ce sera trop tard !
C'est génial  tant sur le plan de la sélection que des prix pratiqués :
Vous ne saurez plus où donner de la tête tellement il y a du choix !
Vous y trouverez les designers et créateurs les plus prestigieux à des prix défiant toute concurrence :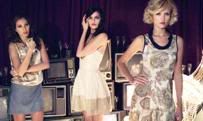 • Fremont
• Hengst
• Eskell
• Lorick
• Quail
• Tristan Blair Shoes
Vous pouvez habituellement trouver ces designers chez Barneys, TG 170, Urban Outfitters, Pixie Market…
Chez Archetype Showroom, les plus belles pièces sont en vente à des prix très intéressants :
En effet les manteaux en laine sont en vente au prix exceptionnel de $200 et $300 au lieu de $500 et $600.
Les vestes en cuir sont vendues au prix de $140 mais également et surtout les articles de la nouvelle collection sont en vente à des prix défiant toute concurrence !
Vous pouvez vous procurer cette robe au prix exceptionnel de $ 80 au lieu de $ 440 !

Tous ces articles sont  soldés à 80 % !
Vous pouvez vous procurez ces Robes aux prix de $80 :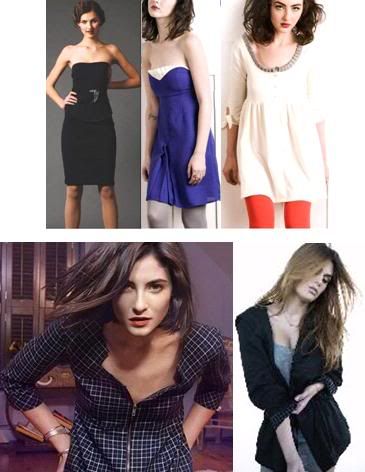 Mais attention ! Ça se termine samedi  donc vous n'avez pas une minute à perdre, croyez-moi, vous ne regretterez pas !
Archetype Showroom & Gallery
Sample sale
December 4th-6th
10:00am – 7:00pm
676 Broadway, 2nd Floor
Daily Sales Email, or Subscribed to our RSS Feed? Don't miss a Sale!
Posted by at 07:27 PM
bargain news , Sample Sale Reviews |