Anne Fontaine
1
 Anne Fontaine
677 Madison Avenue
New York, NY 10021 
212 421 0947 
From the moment you step foot in the Anne Fontaine flagship store on Madison, you will know you have touched upon a hidden treasure. From the elegant store design to the dramatically styled displays, the air exudes luxury and elegance. After you begin to mentally compile a list of items you're lusting after, reality comes crashing in. Nothing this beautiful, this special, this French, could come cheap.
With a steep price tag of $195-350 for one of Anne's signature white blouses, this is certainly not an impulse buy. But if you consider it a fashion investment you just might be able to make this work for you, you closet, and your budget. Oh if they could only see eye-to-eye!
Just remember these two cardinal fashion rules:
A.You get what you pay for and
B. Staple pieces balance out the randomn items you pick up at sample sales and off clearance racks, building chic outfits!
Anne Fontaine is definitely an ideal spot to scoop up luxurious, high quality pieces that you will want to wear everyday. A favorite of mine was the "Tee" Blouse, a spin on the classic tailored button down made with a comfy, tee-shirt-like fabric that hugs your curves in just the right places. The collection is mainly greyscale, with a few pops of subdued color sprinkled about which immediately gives a feeling of high drama; these garments are bold statements.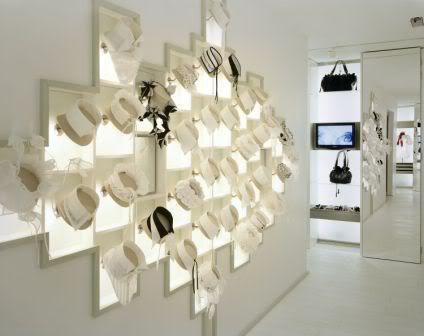 Details are definitely what makes her designs stand out.  Double collars, lace trims, and unexpected touches keep otherwise standard shapes looking fresh and fashion-forward. I was particularly smitten with a collection of decorative collars, traditional or adorned in feathers and layers or fabric, that took up an entire wall. What a clever way to play up the menswear trend this season.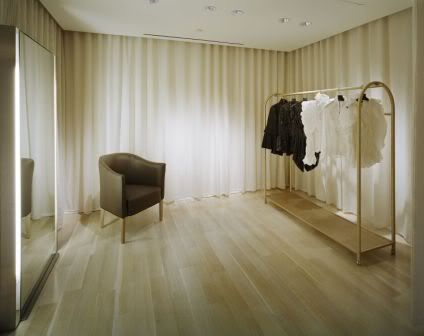 If you're a VIP, get the star treatment in the private room downstairs or dabble in the Precious Collection room, the AF take on couture, with  hand constructed garments and accessories fit for a queen. If you're just a regular old Joan 6-pack, like me, stick to the main floor. Be sure to peruse the classically shaped handbags, eccentric accessories, and ask about the coming-soon Anne Fontaine Spa.
Daily Sales Email, or Subscribed to our RSS Feed? Don't miss a Sale!
Posted by Loni at 01:45 PM
APPAREL , bargain news |