Alice and Olivia Sample Sale
1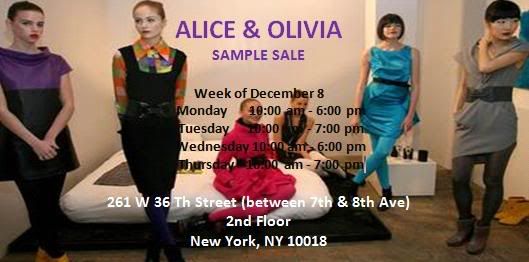 There isn't a day in New York that passes without an exceptional Sample sale!
Je suis rentrée remplie d'enthousiasme du Clothingline où se déroulait une vente exceptionnelle de la talentueuse marque : Alice & Olivia.
C'était tout simplement génial : la sélection était très réussie et les prix assez intéressants ! En effet, la sélection des articles présentés est particulièrement réussie.
Les grands classiques sont en vente à des prix très intéressants. A noter que les prix se situent entre $15 pour un T shirt et $230 pour un manteau.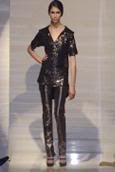 De plus, les fameuses Robes sont affiches aux prix de $135 et $165 et les Pulls sont aux prix de $90 et $120
Tout est  soldé mais attention ! Ça se termine Jeudi donc vous n'avez pas une minute à perdre! Foncez-y, croyez-moi, vous ne regretterez pas!
ENGLISH NOTES:
Yesterday I was luck enough to go at the Alice & Olivia sample sale which was Pretty Nice!!!
People were very eager to get their hands on the items at the Sale!
To tell the truth, prices were very good and the selection was very large and nice.
All items were 70 percent off!!! So:
•Cocktail dresses were between $135 and $165
•Coat were between $190 and $230
•T-shirt were between $15 and $30
It's almost over, the sale lasts only 3 days so get there quick!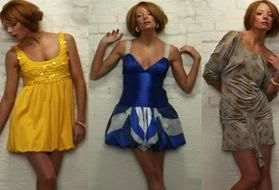 ALICE & OLIVIA
SAMPLE SALE
Week of December 8
Monday       10:00 am – 6:00 pm
Tuesday      10:00 am – 7:00 pm
Wednesday 10:00 am – 6:00 pm
Thursday    10:00 am – 7:00 pm
261 W 36 Th Street (between 7th & 8th Ave)
2nd Floor
New York, NY 10018
Daily Sales Email, or Subscribed to our RSS Feed? Don't miss a Sale!
Posted by at 04:02 PM
bargain news , Sample Sale Reviews |