Alberta Ferreti,Moschino, Jean Paul Gaultier, Pollini, Basso & Brooke, Authier - Sample Sale
0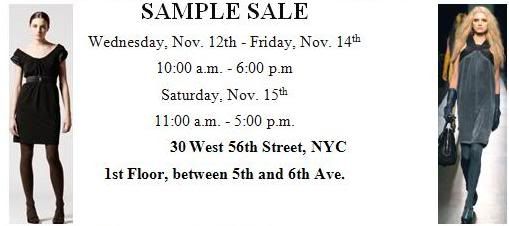 Cecile & I were lucky enough to attend the AEFFE Sale yesterday before everyone got their hands on all the goods. With beautifully detailed cocktail dresses from Jean Paul Gaultier, Moschino & Philosophy ranging from $300-$700, soft leather jackets from Pollini for about $550, belts starting at $40, and an assortment of handbags & clutches for every budget, Cecile & I were enchanted by the selection. The many fabrics, textures and colors used in the collections ensure that there is
 something at the AEFFE Sample Sale for everyone.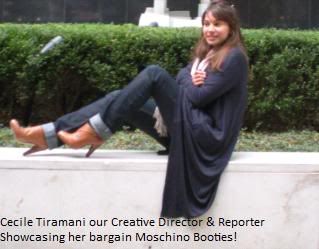 Cecile & I were digging through the shoes for a good hour. Luckily for Cecile, about 80% of the shoes were here size;37. After walking around with about 4 pairs of shoes, debating on which to indulge in, Cecile purchased a beautiful pair of tan leather Moschino booties with a stacked wooden heel & side buckle. Not only were they a great bargain at $264 (originally $594), but most items were an additional 20% off! So Cecile wound up paying a mere $220 for her gorgeous leather Moschino booties which she wore the whole way back to the office.
It was crushing not to find anything in my size (8) as the selection of shoes was to die for. Each pair more exquisite than the next! Flats were $140-$180 with additional 20% off, and Studio Pollini has tall leather riding boots in a rich chocolate brown for ONLY $180 (not counting the 20% off).
Get there early to get dibs on the sizes. Each style has only a few pieces of its kind.
A few words in French from our Creative Director Cecile Tiramani about the event:
Daily Sales Email, or Subscribed to our RSS Feed? Don't miss a Sale!
Posted by at 01:32 PM
bargain news , Manhattan , Sample Sale Reviews , STYLE/BEAUTY |