A knot and a twist: new ways to wear old scarves
0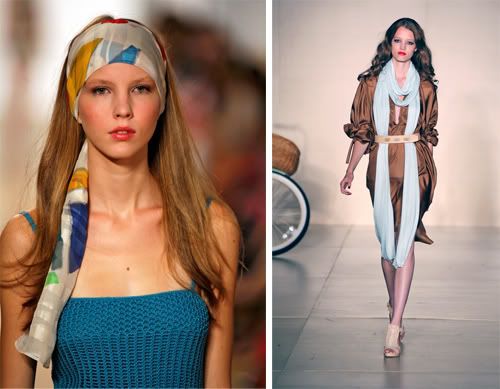 I unpacked my summer accessories last weekend – sayonara, North Face – and came across a bevy of lightweight, airy scarves that remain in my drawers year after year because I'm eternally lost on how to wear them in the middle of a 95 degree day.  Rumor has it that Miss Thing, Anna Wintour, always wears a Hermes scarf (or at least that's what 'The Devil Wears Prada' would have us believe), whether it be around her neck, wrist, or interwoven through a purse or belt loop.  I figured, if my fairy godmother can pull it off, well, so can I.  (I hope.)
The first attempt was actually unintentional but highly successful.  I was headed to a fundraiser and stuck between two tube dresses that weren't quite 'cocktail attire' friendly.  I folded a cotton muslin scarf that my uncle sent me from Paris (printed with a map of – you guessed it – Paris) around my waist, but it wasn't quite right.  I moved it to my neck, but it competed with the statement necklace I wanted to wear.  And so it was settled:  I re-folded the scarf and wrapped around it my chest, bandeau-style, and created an entirely new dress in a single knot.  I was impressed with my creativity – and so were people who thought it came like that from the store.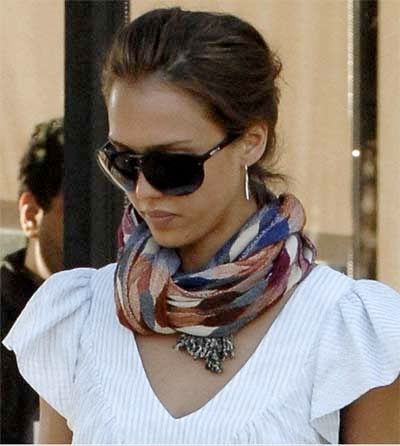 A few weeks later, I had a lunch date downtown and a serious case of bedhead.  I threw a silk scarf into my hair, prairie girl-style, but it didn't quite cut it – tufts of unruly hair poked out and were not consoled by even the strongest pomade.  I knew I needed to distract my man from the hot mess atop my head, and so I took the same scarf, rolled it into a twist, and beaded large, chunky cocktail rings between knots on the scarf, wrapping it back up and placing it around my neck as a choker.  The result?  He paid the tab and told me I looked beautiful.  Then again, it was his turn to pay.
What are your favorite ways to reinvent your scarves and breathe new life into tired accessories?
-Karyn Polewaczyk
Daily Sales Email, or Subscribed to our RSS Feed? Don't miss a Sale!
Posted by karynpol at 12:26 AM
bargain news , SHOES/ACCESSORIES |