A Fido Friendly Thanksgiving
2
The 20lbs turkey has been purchased, and as the wonderfully aromatic smells of pumpkin pie and green bean casserole fill the halls of your house, your nose isn't the only one smelling these fabulous scents.  Your four-legged friend is ready for the multi-course feast as well. (He already has his seat picked out at the table and everything!)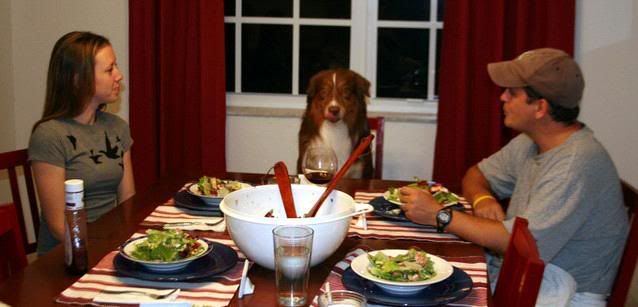 Although most of the food on the table isn't healthy for your pooch, there are several dog friendly recipes that are easy to make and equally delicious, that will leave your dog begging for more.
Thepoop.com has some mouthwatering options including a great idea for leftovers called "Turkey Balls"
1 loaf uncooked bread dough or pizza dough
1/4 cup turkey broth
1-2 tsp. flour
3/4 cup cooked turkey, cut up small
1/2 cup cooked vegetables
1/4 tsp. garlic powder
1/4 grated cheese
1/4 cup sesame seeds
Roll out the dough and cut into 3 inches circles with cookie cutter. In a saucepan, combine the broth and flour, stirring until flour is dissolved and mixture thickens. Add the turkey, veggies, and garlic powder. Cook until mixture is heated through. Let cook a bit.
Spoon one to two teaspoonfuls of the turkey mixture onto each circle. Fold up the sides and pinch shut. Roll into a ball shape. Mix the cheese and sesame seeds in a small bowl. Roll or sprinkle each ball with the mixture. Arrange the balls on a cookies sheet. Cook in a preheated 375 degree oven for 10-15 minutes, until they are golden brown. Let cool. Store in the refrigerator.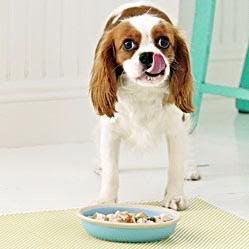 Or if you're looking for a gourmet twist check out Rachael Ray's recipe for Turkey Pot Pie

1 tablespoon butter
1 tablespoon flour
1 cup low-sodium chicken broth
¼ pound deli-sliced turkey, chopped
1 cup frozen peas and carrots, thawed
2 tablespoons chopped flat-leaf parsley
In a small skillet, heat the butter over medium heat. Whisk in the flour for 1 minute, then whisk in the chicken broth and bring to a boil over high heat. Lower the heat and simmer until thickened, 2 to 3 minutes.
Stir in the turkey, veggies and parsley and cook until heated through, 2 to 3 minutes. Let cool to almost room temperature, then serve.
For a delicious dessert treat your best friend to a pumpkin wafer from all-natural-dog-treat.com
One 15 oz. can mashed pure pumpkin (NOT the spiced pie filling)
3/4 cup cream of wheat (or rice cereal if wheat-sensitive) You can mix this dry–no need to cook it first
1/2 cup dry powdered milk
Directions: Preheat oven to 300 F.
Mix all ingredients together. Drop small spoonfuls ( I use the about half of a tablespoon) onto a lightly greased cookie sheet and bake at 300 degrees for 15-20 minutes.
If you'd like to make bite sized cookies for small dogs, training rewards or just small treats, use a pastry bag and squeeze out rosettes about the size of a dime for tasty bite sized cookies.
-Lindsey
Daily Sales Email, or Subscribed to our RSS Feed? Don't miss a Sale!
Posted by at 05:00 AM
bargain news , DOGGIE , STYLE/BEAUTY |